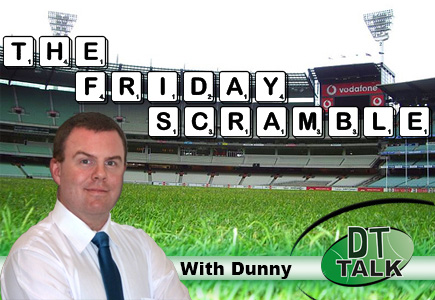 Scoring was way down, donuts, late outs, key injuries… what a disaster last weekend was!  But that is the thing about DT, we can refocus and try again!  Now that round 6 is over, let us never speak of it again!  The key for us now is recovery.  Who did we have sitting on the bench that we can bring back in this week? Dyson Heppell was off the bench quicker than Sam Newman can find some controversy I would suggest!  We only wish we could slide Gibbsy back on the field too, but that will have to wait for another week.
There are a couple of issues that we still have to navigate this week so don't think that it is all smooth sailing now!  Last week was indeed one of the worst that I recall seeing in terms of the carnage it caused, but with misfortune comes opportunity.  Just think what last week will do to those guy that had the really bad scores!  They will now have inflated BE's and in a week or two should be ripe for the picking as you are looking to upgrade Pittard and Goodes (if you held on to them).
The Slaughterhouse Decision
I think the biggest question I have been asked this week is should I be cashing in my cows.  I think that the player that I have most been asked about is Ollie Wines.  I think that there are certainly valid reasons for this question to be asked… his BE is heading north, Port are heading into a tougher run than what they started with.  The first thing that I tell these people to do is to head on back to Wednesday and have a read of Jeppa's Juniors where he discusses this exact phenomenon!
Not to jump on Jeppa's turf, but my thoughts are that there are a couple of rookies/cash cows that are going to drop off and there are those that are probably going to find their mark and plateau.  For me, Wines, O'Meara and Moloney are certainly the guys that are going to find their level and plateau.  Wines may have reached his sooner, but hey, we can't expect the kid to put up 100's every week, he isn't Barlow here!  The other category are those that I am starting to look at moving on.  Stevenson, Heath and Dwyer are the guys that as soon as I get the chance (read: have no other carnage I need to fix) I will be cashing in.
The forgotten two in this discussion (not in Jeppa's article though, he covers everyone!) are Goodes and Pittard.  As I discussed last week, I held them as they have low BE's, but as soon as Pittard comes up with a score and his BE gets over about 40 I will be dropping him like a steaming hot… well enough of that.  Goodes, however, I am willing to hold for another week or two.  Remember, he was out with suspension, not injury so he isn't likely to do it again (hopefully) and we could see some consistency out of him.  But there will come a time when Coles call and need a few more steaks and we need to put him in that truck that takes all our good cows off to the big paddock in the sky.  But that time isn't upon us just yet.  He will play next week and hopefully picks up where he left off.
Big Names Out!
One of the things that has plagued us this year is our big guns out.  This week we find ourselves with more issues in this area.  Trent Cotchin, Paul Chapman and Bryce Gibbs are all out this week.  Thankfully, they aren't all on the one line this time.  But once again our bench cover is going to be tested.
What this means is people will once again have to make the choice between doing some upgrades or sideways trading for points to stay competitive.  What this will do is test people's resolve!  What you need to do is look at what you have sitting on the bench.  If you think that the guys that you have sitting on the bench can get the job done (and they won't be losing cash) then you can look at the sideways of your premo, but if they have a high BE that they won't reach then I think that you should be looking at downgrading them.
Personally, I am getting a bit sick of having guys out that I have dropping out so that I have to worry about fixing things rather than building my team!  This week I will be doing a bit of both I think.  What I am saying here though is, sometimes we have to keep our eyes on the bigger prize of building our teams.  If we end up sideways trading each week we will be stuck with our rookies for the rest of the year!
Things to Remember
Big Names always miss games – unfortunately it is the way of the game these days.  Just be as prepared as you can for it!
We won't know the final teams for Monday night before lockout. – the final squads for Monday night's games will be out on Saturday after our lockout, so be very careful with picking the fringe guys in either of these teams.
Beau Waters is on my Never Again List – I am sick and tired of his late outs!
Get some Cash for Buddy next week! – After Sydney this week he will have GWS, Gold Coast and Melbourne!  He should go on an absolute tear!
Don't go looking for the Delete My Team button, you won't be tempted to push it then! – We are in this til the end!  It builds character.
No Partial Lockout this week. – There is no partial lockout for Monday's game so be careful!
So it was a shocker, but we will all break 2000 this week and win our league games …. right? Please?!?  Don't forget also to keep an eye on the Eliminator, after most of us had a bye last week we will all hopefully get through again this week with a win.
My team did struggle a bit last week with 1,857 including a Waters donut.   Hopefully I will improve this week.  Can't afford to get much worse.
Best of luck this week everyone (unless you are playing me). Keep an eye on Twitter later today for any late outs, as well as an eye on DTTalk for Trigger Happy by Jimbob!  Give me a follow on twitter @pkd73 and catch you all over the weekend.