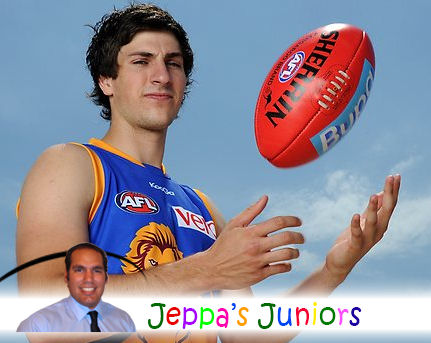 It was always going to be a matter of time until our depth was going to be tested. Gibbs and Goodes are confirmed outs this week and Pittard and Heath are in a race against time to be fit for the weekend. Aside from the backline, Dwyer had a disappointing ANZAC day game and could be dropped, Kommer is no guarantee to come straight back into a hot Essendon team after serving his suspension and Crouch will have at least one more week on the sidelines. It gets worse, there aint a lot to get excited about from the boys on the bubble this week and coaches will need to decide whether or not to trade in 'juniors' that haven't been entirely convincing to date.
Three-Or-More Gamers
Sam Mayes (FWD/MID, 111, $231,800 & BE -44) and Jaeger O'Meara (MID, 115, $273,600 & BE -19) were exceptional on the weekend. Mayes ran hard from start to finish and had 19 kicks, 9 handballs, 9 marks and 2 tackles in the game. Jaeger was brilliant all over the ground and is this week's NAB Rising Star. Sleep easy and continue to start these two on the field.
Dreamteam coaches that currently own Matt Jones (MID, 66, $264,700 & BE 4), Dean Terlich (DEF, 85, $212,100 & BE -18) and/or Michael Evans (MID, 67, $180,400 & BE -67) should be very happy after their efforts against the Lions. Jones and Evans were on fire in first quarter but unfortunately couldn't maintain their dominance for the whole game and Terlich was named in the bests for the Dees after finishing with 14 kicks, 10 handballs, 6 marks and 2 tackles. Keep these three for a while yet.
The Port brigade of Ollie Wines (MID, 72, $360,300 & BE 48), Lewis Stevenson (DEF, 82, $224,400 & BE -12), Campbell Heath (DEF, 69, $235,100 & BE -5), Cameron O'Shea (DEF, 88, $268,000 & BE 7) and Jake Neade (FWD/MID, 68, $226,800 & BE 18) broke my heart after they dominated play in the last quarter and erased a 41 point deficit to pinch victory from the Eagles. I'd start thinking about trading out Neade in a week or two as he looks like topping out at $270,000. Stevenson scored well on the weekend but turned the ball over too many times for my liking and I suspect that he'll be dropped for Pittard if he overcomes his hip flexor injury, so be prepared.
Lachie Whitfield (MID, 68, $270,300 & BE 12) was pretty good against the Suns and finished with 7 kicks, 10 handballs, 5 marks and 3 tackles. Whitfield has a couple of decent prices risers left in him so don't trade him out just yet but I'd start him on the bench this week since he comes up against a hard and fast Essendon midfield. Brett Goodes' (DEF/MID, 61, $274,100 & BE -8) two week suspension really hurts but I advise not to trade him out. Goodes' breakeven is still negative and if he continues to score his average of 79 then he should reach a price of $350,000 before the Bulldogs bye in Round 11.
Brent Macaffer (FWD, 60, $210,300 & BE 5), Lachie Plowman (DEF, 51, $171,500 & BE 30), Nathan Wright (DEF, 50, $134,100 & BE 14) and Dane Rampe (MID, 54, $119,100 & BE -20) were ok from a football perspective but they'll need to improve their dreamteam scoring quickly if their owners are going to stick by them. It should be noted that Macaffer's job security looks more secure after Buckley suggested that he is likely to play the Toovey role in defence for the Pies (source).
Underrated players George Horlin-Smith (MID, 81, $197,600 & BE -29), Jackson Merrett (MID, 65, $204,800 & BE 14) and Callum Sinclair (FWD/RUC, 67, $189,000 & BE -2) continue to surprise me. If Nic Nat returns this week then Sinclair owners will have to settle for a total price increase of $83,700.
Whether it was because of injury or poor form, Sam Rowe (FWD/RUC, 31, $187,500 & BE 22), Sam Dwyer (FWD/MID, 47, $217,900 & BE 13), Luke Brown (DEF, 20, $179,700 & BE 28) and Mark Blicavs (RUC/MID, 22, $161,100 & BE 44) all performed poorly on the weekend. If you own Blicavs and/or Brown then trade them out as soon as you can.
I thought goal kicking midfielders were ideal sub candidates not half back defenders like Jack Hutchins (DEF, 31, $190,700 & BE 20)? Unfortunately, for his owners, Hutchins copped the green vest but on the plus side he managed to score 31 dreamteam points in a quarter and a bit.
Two Gamers
Max Gawn (RUC, 58, $108,500 & BE -73) is arguably the most promising of the two gamers this week. He had 5 kicks, 7 handballs, 2 marks, 11 hitouts and 2 goals and played the forward/ruck role perfectly. Big Gawny has the best job security of the two gamers so if you want a steady earner then trade him in. The affectionate Setanta O'hAilpin (FWD/RUC, 61, $157,700 & BE -39) used his might and man love to good effect against the Suns on the weekend. Other than kissing Stephen Coniglio on the forehead, Setanta collected 9 kicks, 4 handballs, 2 marks, 1 hitout and 3 goals playing predominantly at full forward. O'hAilpin's DPP eligibility and job security justifies the extra spend but if you just want a ruck back up then trade in Gawn.
Marco Paparone (FWD/MID, 45, $107,200 & BE -50) was up and down against a loose checking Melbourne side. His quarter-by-quarter scores were 0, 37, 0 and 8, therefore when he finds a bit of consistency there's no doubt that he'll be a handy acquisition. Paparone's skill and hard running puts him in the best 25 at Brisbane but if you're planning on trading him in, make sure it's as a back up only as I suspect he'll cop the odd vest or two. Sam Kerridge (FWD/MID, 30, $108,500 & BE -43) is playing as a tagger and sacrificing his game to limit the influence of his direct opponent. After successfully stopping Ryan Griffen, Kerridge was given the job on Gibbs and then ran with Judd in the second half after Gibbs got injured. His score of 30 is a concern especially when that includes 7 tackles but if he can win more footy then expect 70+ scores. It's a tough call between Kerridge and Paparone so if you need to decide between the two then lean towards Paparone because he has a great goal sense and in my opinion a higher ceiling.
Jake Stringer (FWD, 58, $165,700 & BE 20) will be a regular in the Bulldogs forward line for the rest of the year, mark my words. He's got great hands and is an imposing figure for a teenager. Stringer had 10 touches and kicked three goals. He'll get better in the short term but his dreamteam scoring output isn't appealing for a player priced at $165,700. If you are worried about Paparone and Kerridge's job security then pick up Stringer, but if you are all about making money quickly then stay away. Sebastian Ross (MID, 41, $144,300 & BE 26) is another expensive rookie that isn't scoring well. He had 17 possessions but 10 were handballs and as an inside midfielder had no tackles. It's a big no for Ross.
Majak Daw (RUC, 39, $108,500 & BE 4) and Tom Lee (FWD, 30, $108,500 & BE -9) struggled in their respective games and were subsequently red vested. Daw failed to capitalise on two very easy set shots in a close match so expect him to be on the outer. Lee unfortunately is a while away from being competitive at AFL level so stay away.
Jackson Macrae (MID, 25, $161,200 & BE 10), Sam Docherty (DEF, 21, $108,500 & BE -13) and Rory Laird (DEF, 81, $108,500 & BE -54) were green vested and only Laird played more than a quarter and a half. Macrae is a rookie that is far too pricey and Docherty is a risky prospect since Voss loves dressing him in green so that leaves only Laird. When he came on for Tex Walker, Laird played in the back pocket on Carlton's dangerous small forwards. He had a purple patch in the third quarter scoring 42 dreamteam points after trying to generate some attack from defence. If you're desperate for a cheap defender then trade in Laird but don't expect huge scores even after his 81 from three quarters this week.
One Gamers
Nick Vlastuin (DEF/MID, 51, $147,700 & BE -12) went out all guns blazing and had an impressive 49 dreamteam points to half time but couldn't continue it in the second half. Vlastuin showed fight playing off a half back flank and proved that he can match it at AFL level, he just needs to contribute consistently over four quarters. With much of the backline carnage already confirmed for this week, I suspect more pain may come Thursday night when Vlastuin is dropped for Morris who comes back after serving his one week suspension.
Josh Saunders (DEF/MID, 38, $102,700 & BE -13) was the only first gamer to receive the green vest this week. He came on half way through the third quarter and added some 'life' to the Saints midfield with his pace and tackling pressure.  Saunders will get another go this week and a full game at that so watch him closely. Teammate Brodie Murdoch (FWD, 34, $102,700 & BE -5) had a tougher time finding the footy. He played predominantly at half forward and at times pushed up on a wing but struggled to have an impact. Murdoch 's quiet game will likely see him dropped for Milne this week (source).
Jack Hannath (RUC, 23, $102,700 & BE -17) played a forward, ruck role but had little impact until taking a big mark on the Richmond half forward line when the game was in the balance. With Kepler Bradley gone for the year, Hannath is likely to play a fair chunk of senior footy for Freo so watch him closely this weekend against the Gold Coast. Zach Williams (MID, 46, $89,300 & BE -37) was rewarded with a senior berth after some good NEAFL form but failed to impress in my opinion. We all love a rookie priced player but he'll need to play out of his skin this week before he is considered.
I have little faith in Bradley Helbig (DEF, 20, $153,500 & BE 54) and Justin Clarke (DEF, 36, $108,500 & BE -6). Helbig did little on the field for Richmond and was subsequently subbed out in the third quarter and Clarke had very few possessions against an unaccountable Melbourne team.
Keep Your Eye On
Jesse Lonergan – was BOG for the Suns reserves in his first game back from a fractured wrist and I am expecting him to make his debut this weekend. You'll need to trade in Lonergan at some point over the next three rounds!
Kyle Martin – may be upgraded off the rookie list with Toovey gone for the season. He's an inside midfielder who can be a handful up forward. In his four VFL games this year, Martin has averaged 24 disposals and 3 goals a game. Buckley loves rewarding good form so watch this space!
Got a question? Ask me on Twitter @JeppaDT.