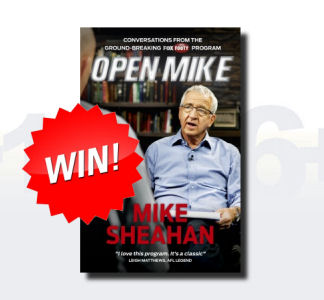 Since 2009 leading AFL journalist Mike Sheahan has interviewed some of Australian football's biggest names on his Fox Sports program Open Mike. With his compassionate and discerning interview style, Sheahan manages to open up even the most reticent of guests, offering fascinating insights into the inner workings of some of AFL's most famous names.
Here, his most indepth and illuminating discussions have been transcribed for ardent footy fans to peruse at their leisure. Featuring some of Australia's most talented and influential football personalities, including Kevin Sheedy, Matthew Richardson, Jim Stynes and Jason Dunstall, Malcolm Blight, Jason Akermanis and many more. Relive your favourite interviews and read revealing accounts of what fuels football's greatest in their never-ending search for glory.
WIN A COPY OF OPEN MIKE!
Congratulations to Tom in winning the book!
You can win a copy thanks to DT TALK and Slattery Media tonight just by answering some questions on Twitter.
To win you must follow @WarnieDT, @CalvinDT and @RoyDT and then be ready TONIGHT (Wednesday) at 9pm AEDT as each of the boys tweet out a question. The first tweet sent back to us with the correct answers and using the hashtag #OpenMikeQuiz will win a copy of the book. As simple as that. We will be the judge of the correct answers and contact the winner by Direct Message on Twitter.
If you would like to purchase the book, click here.