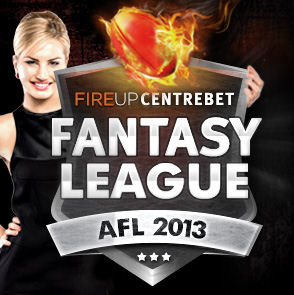 Centrebet has launched it's first ever AFL Fantasy game and they're doing it in style… with $150,000 worth of prizes!
The prizes are huge:
1st: $70,000.
2nd: $5,000.
3rd: $2,500.
Best round score of the season: $10,000.
Weekly winners: $1,500 ($20 cash for next 20 best weekly scores).
We have set up a heap of leagues so you can play against us. Once they're full (please just join one or we'll boot you) that's it, but you can post your league codes in the comments. Don't forget there is a pro game (draft style fantasy) where the winner of each individual league will take home $250 cash. Awesome stuff by Centrebet.
* Please note, you need to have a Centrebet account so you'll need to be over 18 to play along.
PLAY AGAINST WARNIE
435827
228893
921326
319030
643034
PLAY AGAINST ROY
460750
851176
193835
667504
476475
PLAY AGAINST CALVIN
261519
943456
409963
844756
770803