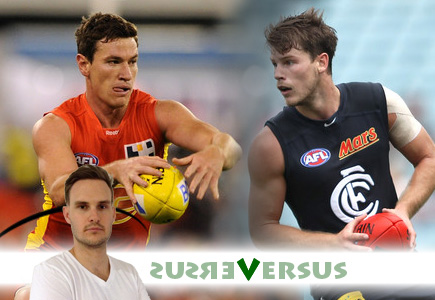 Versus
A head2head analysis of Dream Teams Elite
Each year we are faced with selection decisions that turn into headaches that effectively shape our seasons as Dream Team Coaches. It is imperative to look at all of the issues; all of the positives (and negatives); and get an accurate, well informed opinion before you make that call. This preseason, McRath (with the help of Rob Rusan) will again look at a series of players who, for whatever reason may find themselves in one of these 50-50 calls. This analysis will help you to make an informed decision and let us handle the headaches.
Our first matchup of 2013 is between two guys of comparative age and role, price and bye round; however their path to this point has been very different. In the Blue corner we have Former #1 Draft Pick and Golden Boy, Bryce Gibbs – who, under a new coach and improving team is ready to make the step up to AFL's Elite. In the Red corner we have underdog Danny Stanley – a rejuvenated ex-pie who is nicknamed 'Bull' north of the border. With a versatility that is matched by few, he's also ready to step it up and help his young team climb the ladder in 2013.
Bryce Gibbs
Price: $473,300
Position: Defender, Midfielder
Age: 23
Bye round: 13
2012 Details
Average: 91.5
Games played: 22
High score: 141
Low score: 49
No. Of 100+ scores: 8
No. Of sub 80 scores: 8
Danny Stanley
Price: $473,300
Position: Defender
Age: 24
Bye round: 13
2012 Details
Average: 92.4
Games played: 13
High score: 108
Low score: 66
No. Of 100+ scores: 5
No. Of sub 80 scores: 1
Fixture Analysis
Despite a poor 2012 campaign, the AFL has issued the Blues a tough challenge to kick off this year. The first 5 rounds will see them place fierce rivals Richmond and Collingwood, as well as 2012 finalists Geelong, Adelaide and West Coast in WA. After then however, the draw opens up for the boys from VISY Park, only having to play 1 side from the top-8 twice (Collingwood). Their road trips are spread nicely and they've been gifted double games against Richmond, Port, St Kilda and Essendon. How does this affect our boy Bryce Gibbs? This means that he'll be thrown into the deep end early, and if he flourishes against quality opposition – we know he'll be in for a big year.
Danny Stanley and his boys from the Coast on the other hand, will benefit from a perfect draw reflective of their poor 2nd season in the AFL. Playing no teams from 2012's top-8 twice, instead having double up games against 4 of the bottom-6 from 2012 – they'll be given every chance to improve their ranking in 2013. With an easily run we should see Stanley get plenty of chances to make a spot in the Suns' midfield his own.
Verdict: Stanley gets the nod based on the Suns draw from heaven (Gibbs 0, Stanley 1)
Scoring Potential & Consistency
Over the last 4 years Bryce Gibbs has averaged 107, 96, 107 and 92, which for the superstitious means he is set for another dramatic rise in average to add to the pattern that is his DT career. Now entering the prime age for AFL footballers, I'll back Gibbs (and Malthouse) to utilise his natural talents and have his best year yet. In terms of Dream Team points, we can take Gibbs' 2012 statistics with a big pinch of salt due to the way he was thrown around the ground like a ragdoll, filling gaps and cruising around the back fifty as if the centre square was lined with fire. When he ventures outside the defensive area however, he has proven results of DT brilliance that gets his fans chirping like a flock of seagulls at a Sunday beach session. When thrown into the middle late in 2012, Bryce was a man possessed as he went onto average 126.5 in the 4 games he played in the midfield. Now he just needs to take that form into 2013. And with a DT-friendly-Mick-inspired structure to be rolled out by the Blues this season, this is more a case of probable rather than possible.
Danny Stanley has taken a very different path to get here, with a four game stay at Collingwood ending in 09', leading to a year off – eventually ending up on the Suns' doorstep via the 2010 Preseason Draft. Now having established himself as a solid AFL player, he has played 35 games for the Coast at an average of 84.2 per game. Heading into effectively his 3rd season of senior footy, he too is ready to step up. In 2012 he played several games through the midfield in a variety of run-with, tagging and free roles. Tallying 5 scores of 100+ out of 13, and only one score under 80 – Stanley has an elite level of consistency and a potential to increase his average significantly. With reports from Queensland indicating he'll be spending more time in the middle in 2013, a rise in average of 10 points or more is not hard to believe by any means.
Verdict: More inclined to give the points to Gibbs here given he has a higher ceiling however given Stanley's elite consistency, they split the points (Gibbs 0.5, Stanley 1.5)
Durability & Current Health/Fitness/Offseason Reports
Bryce Gibbs is one of the most durable players running around in the AFL right now. Since his debut in 2007, he has played a total of 131 out of a possible 132 Home & Away games – 134 including finals. So durable is he that he hasn't missed a regular season game in the last 4 years! If that's not durability, I don't know what is. By all reports he is also smashing the preseason and is developing a good relationship with Mick, which will hold him in good stead during this new Malthouse-inspired Carlton era.
Stanley made a fantastic start to his second-career on the Gold Coast as he went onto play a full 22-game season in 2012. Due to a club-imposed suspension his season however, his second didn't get off to the start he would've wanted. He did manage to force his way back into the senior side and play 13 games to finish 3rd in the club's Best & Fairest though, which speaks volumes for his character. Understandably, he has thus far flown under the radar during this preseason as he looks to help build up the young Suns' outfit and take his game to the next level. Also, like Gibbs, Stanley is poised to spend more time in the guts of the ground this season after some astute off-season recruiting by the Suns that netted them regular defenders Greg Broughton and Tom Murphy. This will leave him free to roam further up the field in a more attacking role. And this, my friends is good news from a Dream Team point of view.
Verdict: Can't go past the durability of Gibbs here (Gibbs 1.5, Stanley 1.5)
Bye Week Relevance
This season, the dreaded Multi-Bye Rounds (MBR's) will be in full swing yet again. And for the second year running Gold Coast share the Round 13 week off with the Navy Blues. In fact, the third MBR is again the most difficult in that there are an abundance of popular DT options from each of the six teams sharing this bye. From a defensive point of view, both Gibbs and Stanley will have to be compared with other DT-relevant players in Goddard, Broughton, Heppell, Shaw and Scotland. Whilst the 'Best-18' rule will allow for more flexibility with starting R13 premiums, it may not be wise to start with more than 2-3 players with this week off due to the likelihood of most people having at least 2-3 from this week missing from their midfield as well (Ablett, Swan, Pendles, Watson, Murphy etc). With many locking in Goddard from Essendon (that'll take some time to get used to) and Broughton from the Suns (that, too), there would realistically only be room for one of the two boys in question. Can you have both Gibbs and Stanley? Only you can answer that one.
Verdict: Both share the same bye round so will create the same issues here – another tie (Gibbs 2, Stanley 2)
Value
Value is a concept that is derived from perception, which is essentially what we believe something is worth. In the case of a player's Dream Team value, the things we must look at are their 2012 output, potential for improvement and circumstances (fitness, form and draw). In looking at Gibbs' value, we can draw the conclusion that his 2012 was far below what he is capable of (Average of 92 from 22 games). Due to coaching experiments and necessity, he was required to play in less fruitful DT positions that largely triggered his drop in yearly average. Given that he averaged 107 points in 2011 as a 22 year old who started to move into the midfield; is set to play midfield again in 2013; is turning 24 this season; and has a better coach who carries a DT-friendly game plan (see Collingwood 2010) – Bryce is set to give us a much higher return that he is priced at. He is potentially 15-20 points underpriced in my book.
Bull Stanley on the other hand is a bit harder to read given he's only got 2 years of solid data to go off. After improving on his debut season (averaged 79 from 22 games) he broke out and averaged an encouraging 92 from 13 games in 2012. Add to this another solid (less drama-filled) preseason and some 'move-to-the-midfield' hype, and all of a sudden it's not inconceivable that Danny could match his improvement from this year in the form of a 10-12 point average increase per game whilst playing the full 22 games. By this token, both players are vastly underpriced and have outstanding value at their current price.
Verdict: Whilst both appear to be at least 10 points underpriced, Gibbs' is arguably the most undervalued premium in DT this year – so he gets the points (Gibbs 3, Stanley 2)
Numbers to Consider
Bryce Gibbs
Averaged 102 from R14 onwards, including 114 in last 5 rounds (122, 141, 125, 64, 118). Take out that 64 (playing in defence v Gold Coast) and he scored 118+ in each game played in the midfield to finish the year. Assured to take on a more permanent role in the guts this season, expect more of those 118+ scores in 2013

Has averaged 100 points per game over the last 4 years

Hasn't missed a H&A game since Round 5, 2008

In 2012 Gibbs averaged 101.5 DT points when Carlton won & 81.5 DT points when they lost
Danny Stanley
5 x tons out of 13 games whilst given rotating roles

Scored between 82-108 in 12 out of 13 games played in 2012

Played 22 games in 2011 in debut year, with off-field issues in 2012's preseason restricting him to a slow start

Was only owned by 1.18% of teams in 2012 (as at R23). Now eligible as a defender, he will be one of the most unique premium-scoring defenders in the league
Conclusion
Now before reading this I can almost guarantee that 99% of you would have automatically locked in Gibbs based on value and hype alone. However, hopefully this matchup has given you a bit to think about regarding Stanley and the possibility of sneaking him in as a point of difference. With the new 'Best-18' rule brought in around the MBR's, it is of course possible to have both of these fellas in your back six (more than likely at the expense of Goddard, Heppell or Broughton) – however given the uncanny similarities with these two players, for many it would be a case of one-or-the-other. Bryce has a higher proven ceiling and a better durability record, whereas Stanley has consistency that rivals a cake made of cement and a draw from the AFL gifted with a pink bow. Both are set to improve hugely on their 2012 seasons; and both have cases for a spot in your back six. The choice of who is up to you.
Final Verdict: Whilst it may have seemed like it would be a runaway victory, overall the matchup is closer than you might think (Final – Gibbs 3, Stanley 2). In the end, the value that Bryce Gibbs offers cannot be ignored. Stanley is still a fantastic, unique pick though.
Who will you choose?
McRath's 2013 Projections
Gibbs' Average: 108 from 22 games
Stanley's Average: 102 from 22 games
FOLLOW ME ON TWITTER: @McRathDT to say share your thoughts on the 2013 Preseason or our Versus Series.