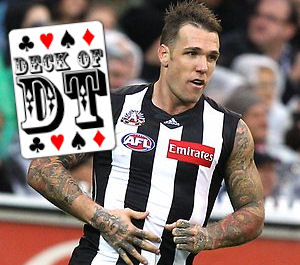 Name: Dane Swan
Club: Collingwood
Position: Midfielder
Assistant Coach 2013 Price: $688,100
Bye Round: 13
2012 Average: 133.56
2012 Games Played: 18
Predicted Average: 127
Why should I pick him?
It's Dane Swan. Enough said.
Umm… ok, I probably shouldn't leave it at that being our last Deck of Dream Team article for 2013, so here goes.
There is no doubt that Dane Swan is the most prolific Dream Team player in the competition. His average of 133.56 last year is the highest season average we've seen in the game and this is after the previous three years finishing the season with averages of 119, 123 and 121. Add to that averages of over 100 since 2006, he is a fantasy beast… or as we affectionately call him, a fantasy pig.
Swanny's 'piggery' on the football ground is amazing. Last season he only scored under 100 once and it was a 95 against Geelong. Swan averaged 150 over his last 5 games with the highlight being his 187 in the final round of the season; the DT Grand Final. This was something special. 42 touches, 12 marks, 6 tackles and a goal. We had our DT Talk Grand Final Meet-Up this day and we were pretty excited with his quarter breakdowns of 55, 50, 27 and 55. Wowee. Anyone who can do this has to be on the priority list for your team.
Now I'm sure I don't have to sell him too much more as we all know what he's capable of, what he is about and what we will expect this year. Much of the same! A captain option week in, week out. I will just add here that as Calvin says, you're not just picking Swan, you're picking two of him!
Why shouldn't I pick him?
Ok, there is no reason why would wouldn't want him. So I'm going to change this to "Why shouldn't I startwith him?".
The main reason is his price. Getting a guy who averaged over 133 last season comes at a cost – he is priced at that average and in 2013 that means $688,100 (7.5% of your starting salary cap). That's a fair bit! There is some value in other premiums out there. For example the other big dog in Gary Ablett saves your $45K which could come in handy or jump on his team mate Scott Pendlebury at almost $120K cheaper.
With being priced at that average, while he is a fantasy pig, he's going to have to do a bit to maintain that price. If you've ever followed prices of premiums, you would notice that they all drop in value. This year may not be as big as the last two with no expansions teams giving us multiple rookies, but there will still be a drop.
I'm not sure Swan will score enough early on to reach what his break even will be. Anthony highlighted this in an article a couple of weeks ago. The Pies start the season with games against North Melbourne, Carlton and Hawthorn to get his prist set of price changes. Swan didn't play against the Kangaroos last year but knocked up a 148 in their only meeting in 2011. In games against Carlton last season he scored only 109 and 105 and last time against Hawthorn he scored 106 (he did have 165 earlier in the season against the Hawks though). What can we read into this? Well, not much… but if he has his lower scores, his price – based on his average of 133 – will drop a fair bit over those first couple of price changes.
Swan's Round 13 bye is shared with his Magpie team mates (obviously), Gold Coast, Essendon, Carlton and Adelaide who all have popular premium midfielders that could make your team (plus the Giants share that bye too). I will say here that I would have Swan over all of them… and by Round 13 you would want to have him floating in your team anyway. While our bye rounds are easier to manage this year with the best 18 rule for the MBRs, we probably still don't want one of the rounds to be down a heap of premium mids as our scores will suffer for it that week. This is a whole different story though! (Stay tuned for articles on this strategy).
Hmm… tough to say don't start with him as I am a huge fan, but it would be the right call if he does start quietly.
Deck of DT Rating.
ACE – I want my walk up captain to be Swanny each week. A 133 average probably won't be seen this year, but I have no doubt he will be the highest scoring and averaging player in 2013. I'm locking and loading from Round 1 at this stage. Articles like this one give me confidence as he's having a crack and as Maxy said, he hasn't seen him like this in his time at the club. Swanny can be lazy on the track and he was questioned a bit last year with his work ethic – even that pic I have used for this post was all about his supposed weight issues. Ahh… it will be one of the hotly debated topics this pre-season… to start with Swanny or to look at an upgrade. My answer is to start with him!
Loading ...
FOLLOW ME ON TWITTER: @WarnieDT for all things DT (and more). Got something to say about the deck? Use the hashtag… #DeckofDT.
Thanks to all who have tuned into the Deck of Dream Team this year but a big thanks must go to our writers: Tbetta, Dunny, TeeTee, Griff, JimBob, Jeppa, Rainman and McRath. Top blokes who have given some awesome insight into the players covered in the deck. Cheers boys! – Warnie, Roy and Calvin.