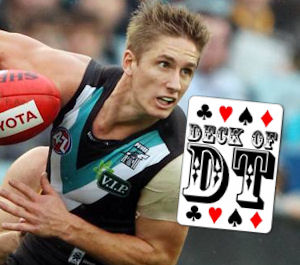 Name: Hamish Hartlett
Club: Port Adelaide
Position: DEF/MID
Assistant Coach 2013 Price: $421,400
Bye Round: 11
2012 Average: 80.9
2012 Games Played: 15
Predicted Average: 88
Why should I pick him?
Port Adelaide had high hopes and expectations when spending their fourth pick on Hamish Hartlett in the 2008 National Draft. After four years in the AFL system, he has made good progress and is arguably knocking down the door of fantasy relevance as we plan for season 2013. Let's peruse a selection of his stats in the table below before weighing up his case.
Of significance to prospective owners are the numbers highlighted in green. His kick-to-handball ratio from his debut year of 2009 through to 2011 is a healthy 1.7 kicks for every handball. His possession average also hit the mid/high-teens in 2011 and 2012. Of note is a slight regression in his possession and kick:handball ratio when comparing 2012 to 2011, culminating in a slight tapering off of his Dream Team average from 88 to 80. While this is a limited sample in his his short AFL career, his output is trending in a generally positive direction since his debut and this bodes well for another solid season ahead.
Harlett's status at Alberton Oval keeps growing. He has earned plenty in his short time there, winning the 2011 Gavin Wanganeen Award as their best player under the age of 21 their 2011 Best & Fairest award and being promoted to their leadership group in 2012. He's highly rated by Port and is working his way into their core of key players. How does this relate to his fantasy prospects? It's obvious that Port have taken a long-term view of his development, nurturing him across half back with a steady workload of midfield duties in the mix. As a prolific ball-winner in the junior ranks, he is a ball-magnet and the coming season should see him gain significant rotation through the middle, resulting in valuable fantasy returns. His kicking ability and eye for goal are a bonus.
The strongest point in Hartlett's case for selection is his designation as a DEF/MID dual-position player in 2013. Whilst the prospects of a MID averaging 80-90 ppg would scarcely raise the eyebrows of many (if any) coaches, the prospects of a DEF averaging 80-90 ppg is bound to garner some attention. With true premium defensive options falling away after the established Goddard and Gibbs, Harlett provides a unique option with solid upside.
Why shouldn't I pick him?
Hartlett's well-documented injury history raises the overwhelming query regarding his durability when considering his case for selection. If we refer to the table above, the worrying stat line (in orange) is the number of games Hamish has played in each of his four professional seasons. He managed a career-high of 16 games in 2011 and has been unavailable for around half of the regular season over his four years in the AFL, due largely to injury and the odd suspension. He has been blighted by quadriceps, hamstring, calf and shoulder injuries, with the majority falling into the soft tissue category.
A look over the table of Harlett's Dream Team output over the last two seasons certainly cements the argument regarding his durability, or lack thereof. It also brings to question the deviation in his scoring: while the spread of 80+ scores are pleasing to potential suitors, his floor tends to drop away to the 50s-60s with a couple of lows in the basement 30s-40s. While we do accept that even the best of fantasy defenders have bad days at the office, a narrow band of deviation is highly desirable from the backline and consistency does not yet appear to be Hamish's strong suit. However, we must allow for the fact that 2013 will be just his fifth year in the professional ranks when considering this point.
Deck of DT Rating
QUEEN – Harlett is priced rather attractively in a DEF pool that is arguably lacking both depth and points-of-difference. With two trades per week, the risk of starting with him is mitigated somewhat and he is well worth a look for 2013. As evidenced by the headline act of many a 'never again' list in Jack Grimes who came on strong to play 22 games in 2012, there is hope yet for young Hamish to get his body right and play 20+ games in the coming season. Bundled with increased stature and a bigger on-field role to play at Port, there is enough merit in the arguments for his selection to justify a starting spot in your side as a unique DEF.
FOLLOW ME ON TWITTER: @TeeTeeDT for all things DT and more!
Got something to say about the Deck? Use the hashtag #DeckofDT.