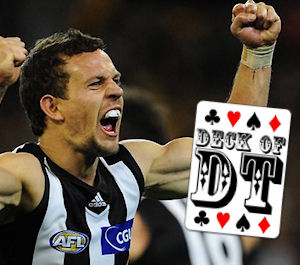 Name: Luke Ball
Club: Collingwood
Position: Midfield
Assistant Coach 2013 Price: $343,100
Bye Round: 13
2012 Average: 74
2012 Games Played: 3
Predicted Average: 90 – 95
Why should I pick him?
I think at some stage everyone has considered Ball, purely because of his discounted price.
Let's have a look in some detail.
Firstly, Luke Ball is an absolutely competitive beast. He is an enormously proud footballer and will be very keen to start season 2013 with a bang after his shocking injury in round 3 last year.
Since moving to Collingwood in 2010, he has averaged 91.6 in 2010, 97.0 in 2011 and his first 2 games last year were 110 and 86.
He is priced at an average of 66 ppg. Across 2010 and 2011, he has only been under that on 3 occassions.
Last year he started off the season at $476,500… and after 2 games was averaging 98…meaning he was still underpriced by about 14k.
Just a reminder he is priced at $343k….he will comfortably average 90…meaning he is underpriced by around $150k. He will score at least 90 per week AND will make you money fast.
Need further convincing? His performance in 2011 is better than that of a few high profile player in 2012.
The % of times he scored 100's was more than Toby Greene, Josh Kennedy, David Mundy, Brad Ebert, Kieren Jack and Andrew Swallow.
The % of time he scored over 110 (True Premo Status) was more than Dangerfield, J Selwood, Greene, Ebert, Jack, Swallow, Kennedy, Mundy
In 2011 he had a 4 game streak averaging 113 and a 3 game streak averaging 112.
He has a decent record against the teams he comes up against early, with my predicted average for him pre bye sitting at 97.
Remember with all of this he is priced @ 66!
Another important thing to note is how he gets his points. 30% of all his points come from tackles. That is more than renown tacklers Swallow and Redden. He has scored more than 7 tackles per game 11 times in 2011 and averages 6.5. He will get you 30 ppg in tackles alone. He also average a touch over 20 possessions a game and I cant see this changing.
The other stat that jumps out for me is his Standard Deviation (Consistency) he is behind only Watson, Redden and Ebert of the top 20 midfielders last year. This includes Swan, Ablett, Pendles, Cotchin, Beams, Boyd etc.
Why shouldn't I pick him?
It really depends on your strategy. Some are running with uber premo midfields or purely guns and rookies. Given those structures he obviously misses out.
He is another Collingwood midfielder. Swan, Pendles and Beams are in a lot of teams and do you have one of those miss for his inclusion?
He is coming off a significant injury and may start the season slow.
Lastly there seem to be a few tasty mid price options this year in Lower, Moloney, Embley, Swallow, Rischitelli… is he worth the punt at his age?
Deck of DT Rating.
QUEEN– I believe that Luke Ball is pretty much the bargain of the year. He has numbers better than a lot of players that are being considered for M4 or M5.
Lets be clear here, his number for 2011 when we look at consistency and purple patch are better than Dangerfield, Swallow, Kennedy, Mundy, Joel Selwood and Greene…AND HE IS $160k CHEAPER!
There are more than enough points in the magpie's midfield to go around. (Swan, Pendles, Beams and Sidebottom contributed 30% of the Pies DT score last year, and they were the 3rd highest DT scoring team) I believe that he will average 90 comfortably and will either make you some good money fast to turn into a Premo before the round 13 Bye or will be a wonderful bench cover for the remainder of the year. I really think that he provides enormous upside and has to be considered for your starting team.
 FOLLOW ME ON TWITTER: @RainmanDT for all things DT (and more). Got something to say about the deck? Use the hashtag… #DeckofDT.