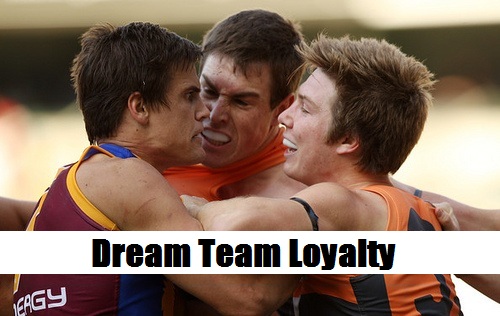 Written by: Anthony Smith
Like many dream team coaches I watched with great interest as the AFL's first Free Agency period unfolded, wondering what the fall out would mean for our Dream Team players.
As predicted, many players left their clubs searching for more on-field opportunity. But some were lured away from our clubs by the all mighty dollar, leading many to question how important loyalty is to our players and clubs. This led me to ask myself, is there any loyalty in Dream Team?
Specifically; I'm thinking about our cash cows. Now as we know, our cash cows are there to be bought at basement rookie prices, score well, earn cash and then let us sell them off to upgrade to a premium keeper!
But occasionally we stumble across a rookie who is scoring well enough and slips through the 'upgrade' net. These guys are there for you, providing cover, those much needed extra points and sometimes even getting you across the line in tough head to head match ups. While we are thankful for anything they can give us we always remember only paying $104,000 for them not so long ago.
Then comes the next season, we're busy looking for new, fresh rookies while our old players are moving into that awkward mid-priced 2nd year bracket. Most of the time we wont even stop to consider them as we scroll from the premiums down to get to the rookies on our team picker. So this article is just me playing a little devils advocate and giving a voice to some of these 2nd year future guns.
First we'll look at an example of why we should maybe give these guys another run.
Example: Nathan Fyfe.
2010 – MID/FWD $282,900
Fyfe debuted in 2010 providing decent cover to our forward lines with an average score of 68 points per game. This took him into his 2nd season with an awkward price tag of $282,900 which was enough to make a lot of coaches overlook him initially. But that was the cheapest Fyfe would be that year, going on to average 98 points per game, and being a significant part of many coaches successful season that year. So this is who we are looking for; another Fyfe. PS, 2013 – MID $458,500.
So who have we got to potentially save us in their second year, and who do we stay loyal to?
Candidate: Devon Smith.
MID/FWD $352,100
Smith was a source of annoyance to many coaches last year. It seemed that if you played him he'd cop a vest or not score, but if you benched him he'd bang out a 100… for your opponent. Smith showed an ability to score in a team often getting beaten and even though he copped a couple of vests, he still played 20 games for the Giants. Escaping the dreaded revolving door of rotations Sheedy had implemented, going on to average a decent 68 points per game. (Look familiar?)
Candidate: Kyal Horsley
MID $385,600
Horsley debuted at the perfect time for us last year and jumped out of the gates, averaging 106 points in his first four games. By then we had all brought in 'The Horse' and then watched on as he only cracked 80 once more, finishing the year with an average of 74. In all honesty Kyal seems pretty risky, but he does have the ability to be great. Plus his job security seems pretty secure after being promoted to the senior list at the end of last season and taking out the Suns 'Most Professional' and 'Iron Man' club awards.
Candidate: Brandon Ellis
DEF $300,300
While Ellis only finished the year with an average of 57 points per game, I feel that he has the potential to score a lot higher this year. He has a lot of upsides working for him. Firstly and most importantly, Hardwick loves him. Meaning excellent job security, already playing every game in his debut season except one. Secondly, he is a very hard runner (15.4 in the beep test) and was already pushing into the mids last season. With a full season and now second pre season under his belt I'm really looking forward to the next level this kid can take his game (and DT scores).
Candidate: Toby Greene
MID $495,700
I couldn't write on this subject without mentioning this mini-gun. Priced very high for a 2nd year player due to his 96.2 point average this kid will be overlooked by a lot of coaches, meaning he could be a very important point of difference. I don't think I need to say much more about this kid (well, not more than what Griff has been saying on twitter), except that he'll probably win a brownlow sometime between now and the next 4 years…
Also consider these guys;
Candidate: Dayne Zorko MID/FWD 95 point avg $487,800
Candidate: Sam Gibson MID 90 point avg $468,400
Candidate: Lee Spur DEF 66 point avg $342,400
Candidate: Tomas Bugg DEF 68 point avg $352,100
Candidate: Tory Dickson FWD 68 point avg $349,400
So that's just a couple of 2nd year players who could possibly be the next Fyfe! I hope this article has thrown a few more players onto your watchlist! Cheers for reading, and you can find me on twitter if you want to continue the conversation further.
All the best for season 2013!