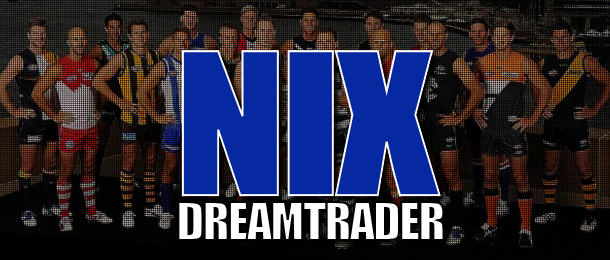 Hi All,
Here is new version of Nix DreamTrader with data as at end of Round 16.  Taking inspiration from Google Android naming patterns I've named this version octagonal wheel.
As well as updated data and re-calibrated calculations, there are extra features.
Extra Features:  The extra features are:
Self-populating data.   Now you just select the players from drop-down list and a lot of the other information is pulled in automatically.
Multiple trade scenarios.  You can now look at several trade scenarios scenarios all live at the same time. There is also a summary table so you can compare them easily.
Charts: Each trade scenario has season price charts for the 2 players concerned and a chart of the net $ to do the trade depending on the round you want to trade in.  Just the thing if you are stalking Marc or Pendles.
Bonus Extras:  As a special bonus to users downloading octagonal wheel, there are also bonus charts showing:
The game average total team points scored by each team over the season, also showing standard deviation and average for last three games.
The game average total team points conceded by each team over the season, also showing standard deviation and average for last three games.
That's gotta make you wish you had some trades left!  But wait, you may find a special easter egg giving you a code that you can email to Virtual Sports to get 5 extra trades.  OK that's not true, but wouldn't it be cool if it was!
Anyway over to you.  I've entered the top 6 trades for this week.  People of obviously expecting Jacobs to perform a lot higher than his average, I'll leave it to you to work out how high.
Remember to read the instructions (on a separate tab this week).  Happy to respond to any issues or suggestions either here or on twitter @NixTrader.
Here is the link …
Edit Added: The file is an MS Excel 2007 spreadsheet, so it will try to open in MS Excel 2007 or similar.
I am happy to try to export it in other forms if posters want to suggest something feasible.  However, the formulas in this version are a lot more technical, so I am less optimistic it will transfer to other platforms easily.
Nix
Disclaimer: this tool is a guide only, you are responsible for your own use of the 'T' button.