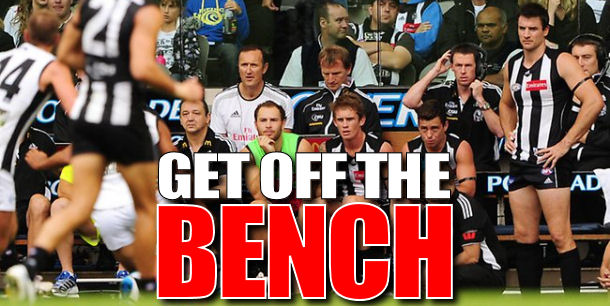 So last week we had a feast of great scores from our fringe guys, but geez, they didn't reward us this week.  We had some of our walk up starts stumble onto the field and more importantly stuff up on the DT Score Board!  Some that hurt us were Duigan with 43, Darling with 50 and Harris with a shocking 25 (red vested, but not til later in the game).  However, we were pleased with Mzungu and his 85 in a full game and Puopolo with 99.  So with these guys bouncing up and down all over the place in scoring I reckon Warnie has given me the toughest job in DT land!  But that is half the fun, let's see what I can find this week!
First up though, I do apologise for a short write up this week.  I have had a bit been a crook this week and I can't get to the computer and sit there for as long as I would like, but I will give you a bit to help you out but I won't get through as many players as I normally would.
Start these blokes this week
Now we know that Duigan had a poor game last week but they are playing Port this week so I think he will make a comeback.  Danny Stanley will be over at Patterson's Playground and he really seems to have found a niche at the GC.  Fremantle were shit last week (thanks mostly to me trading in Fyfe) but Nick Lower had a pretty good game given the circumstances however, with them playing the Hawks this week I am not so confident on him scoring highly.  Speeking of Dockers, the most traded in this week will be Mzungu and he is safe enough to play on the ground I think.  Even though he is a Mid Fwd in DT, he seems to be spending some time down back (or perhaps that is just where the ball spent most of its' time last week).  I would play him if you need to.
Stefan Martin is still racking them up for the Dees and whilst he is on the ruck duties I would keep him in the side.
The two Essendon boys Hibberd and Heppell are back and they will both score very well against the Dees who are a bit of a rabble this week. 
David Swallow was a reasonable player again this week and he will slot in nicely for your M6 spot.  I would keep him on the park (for me he will have to!)
I have had some people ask me to add in Petrie and I hope they put him on the field last week.  His 109 was great he seems to be a lone hand up forward (well the only one that can kick straight!).  And with the Kangas playing the Crows this week I can see his scoring doing very nicely since the Crows seem to be struggling at the moment with their consistency.
Tom Lynch was the most added last week and put in a servicable 66.  I would feel safe playing him but I don't know that you will have enough donuts that you would need to.  In a similar vein is Sam Iles who is scoring ok but I don't know if you really need to play him.  Zac Smith had a tidy game with an 88.  I think alot of us will still need to play him this week until Sandi comes back
Jack Darling had his first bad game on the weekend, but hey it was Collingwood.  His 50 was his worst outing,  but I reckon he will come back this week.   Krak had himself a reasonable game and he has been running in the 60's and 80's.
Ben Jacobs did ok up north in Darwin with his 67.  I reckon he will hold his spot, but just have a look on Friday night to make sure.  Shane Savage has also been fairly steady over the last few weeks and with the way the Hawks have been playing I reckon he should keep it up.  Lastly Simon Buckley has been pretty good recently so I would play him.
Do you really trust em?
I said that Ed Curnow wouldn't make an appearance in this article anymore, but I just thought I would put him in this section as I don't know how he will go in his first game back from his injury, probably should do ok since he is playing Port. 
Daniel Harris is probably going to be traded out of a number of teams this week after his poor game last week.  I would normally say play this guy, but his 25 worries me a fair bit.  If he is all you have then put him on, but I will be trading him.
We notice that both Cam Pedersen and C Rich have been named on the extended bench for the Kangaroos.  So check them on Friday, but I don't know if you can trust them on the ground.
Mitch Wallis had a 64 last week but his scores have been fairly incosistent.  But with Libba out he may do very nicely.  Jesse O'Brien getting a green vestworries me a bit.
Andy Otten is back but geez it would be gutsy to put him on the park.  I would also think that he may get Vested.  Another big concern is Prestia who we all waited on and then he didn't really deliver much for us.  However, hopefully that was only because of his Vest.  Bewick is another that loves a vest.  He has 4 of them now!
I don't have my rankings for you this week guys, I haven't had enough time to fully research everyone and I don't want to stuff things up for you with unresearched advice.  So how about this week you guys all give me your top 3 in each position in the comments.
So that is it for me today guys sorry it is a bit short but I promise next week it will be back to all its' glory.  I will be on Twitter over the weekend @pkd73
Cheers for now.