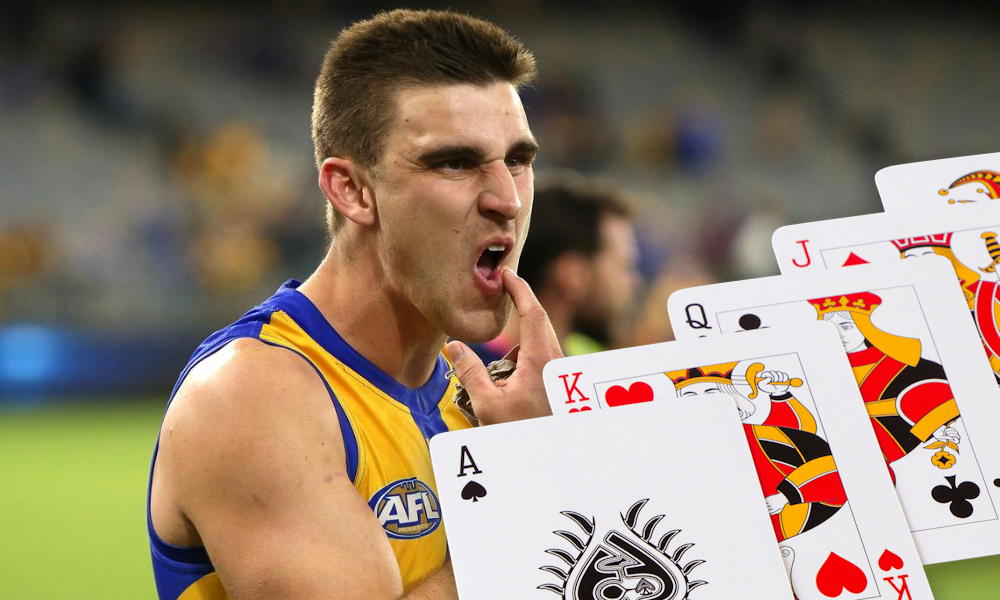 Name: Elliot Yeo
Team: West Coast Eagles
Position: MID
Price: $679,000
Bye round: 13
2020 average: 71.2
2020 adjusted average: 88.6
2020 games played: 10
Predicted average: 102
Draft range: Round 6/7
Click here for 2021 Fantasy prices.
Why should I pick him?
Although over the years Yeo has been a somewhat inconsistent fantasy player (nicknamed the yeo-yeo most famously) his 2018 and 2019 seasons of averaging 106.8 and 102.7 turned him into a reliable premium scorer standing firm in West Coast's midfield. However off-season foot surgery in the 2020 pre-season and his continued struggles with osteitis pubis ruined Yeo's 2020 season. By round 12 Yeo was put on ice, enabling the rest of the season to recover from the nagging groin injury.
Yeo only managed an average of 88.6 in his 10 games placing him at a cheap price with a potential of 10-15 points upside. Prior to last season Yeo has been incredibly durable missing only 2 games in the last three seasons, giving me confidence that if he can recover fully from osteitis pubis he should return to his normal durable self.
Yeo's ability to score is underrated as well, in 2018 and 2019 Yeo scored over 120 in 11 of 43 games, roughly 1 in 4, with his ability to fill the stat lines, marks and tackles especially impressive. Yeo is a proven fantasy scorer perfectly catering to fantasy's point system. This is best seen in 2019 where Yeo exploded in a 4 game patch between round 7 and 10 where he averaged 12.25 tackles a game, a massive 49 points just from tackles!
No doubt Yeo was also affected by West Coast's struggles in the hub and with trying to play with a new Tim Kelly. This midfield shuffle and time spent away from home also would have impacted Yeo who was already struggling with trying to get his body right. But with another pre-season with Kelly and far more home games at Optus, Yeo is prime for a bounce back season.
Why shouldn't I pick him?
Recovering from Osteitis Pubis can be difficult and management of the injury is often crucial for athletes getting back to full fitness. Although Yeo started back training a month ago, the club is still being cautious with him, the injury can often be inflamed easily and randomly, a definite cause for concern picking Yeo.
Playing alongside Tim Kelly may have also affected Yeo's scoring but with only 10 games of data and the mess of corona ball it's hard to pinpoint the effect on Yeo, an unknown dynamic that will only be fully seen during the season. With Kelly's offensive freedom and his partnership with Nic Nat, Yeo may be asked to play a slightly more defensive team role in the Eagle's midfield, something to keep an eye on in pre-season. Although not directly a coincidence of Kelly's arrival Yeo's TOG has also dropped since 2017 from 86% to 80.6% last season, hopefully this trend doesn't continue.
Deck of DT Rating.
QUEEN
In a year with a slim salary cap, Yeo may be the unique under-priced premium for your team. His ability to score in various ways in undeniable, and his career durability is impressive. Being priced at just under 89 with two 100+ seasons before hand, Yeo screams value in our midfields but is not without the risks. Keeping a watch on his recovery from osteitis pubis and his role in the Eagle's midfield is crucial in making the final decision whether he starts in our round 1 teams.
FOLLOW US  ON TWITTER: @DTTALK for all thing AFL Fantasy (and more). Got something to say about the deck or AFL Fantasy in general? Join the conversation and use the hashtag… #AFLFantasy.