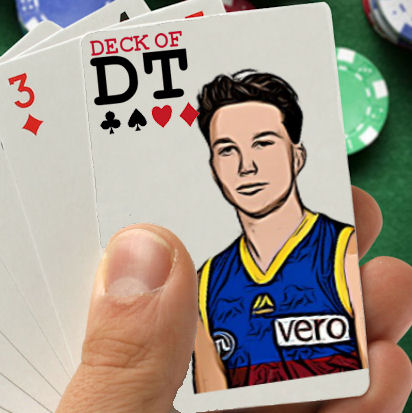 Name: Alex Witherden
Team: Brisbane Lions
Position: DEF
AFL Fantasy: $604,000
Bye Round: 13
2017 Average: 88.4
2017 Games Played: 9
Predicted Average: 85
Draft Range: 7th-10th round
Why Should I Pick Him?
Witherden's debut 2017 season bequeathed significant praise for the boy from Geelong's Barwon Peninsula; earmarking the defender as the absolute favourite for the 2018 Rising Star. Introduced to the first team in Round 14 after long-term rehabilitation from a broken leg in 2016 and further hamstring niggles picked up in the NEAFL, Witherden made perhaps the most seamless transition into elite level football of any of his 2016 draft peers. While limited to just nine games in total after his recovery, Witherden set the world alight, with five scores over 90 whilst never dropping his points tally below 70.
This consistency meant Witherden finished the season with an average of 88.4; the highest of any first-year player in the league. As a result, Witherden became the mid-season gem coaches sought, generating well over $200,000 for them whilst still performing every week. Whether it be by virtue of playing as a defender with the whole field ahead of you, or through a genuine talent and a knack for consistency, Witherden became the rare hybrid of young footballer who finds the ball, uses it extremely well, performs his role for the team and produces tasty fantasy scores.
At Brisbane, he's already established himself as a key pillar in the rebuild, and the team loves getting the ball in his hands. In his debut, he was tasked with taking the kick-ins for his team, and with a fantasy-conscious mindset, managed to kick-in to himself 28 times in all; good for second most in the entire league.
If that's not enough convincing, I caught up with Alex to have a chat about his rookie season, 2018 and all things fantasy.
Anthony Wingard: How have you prepared in the offseason to back up your rookie year?
Alex Witherden: The first season was an incredible journey for me, I enjoyed every bit of it; to even just be back playing footy after twelve months off was awesome in itself. However, it was emotionally and physically really taxing, so Corey Lyons and I took off to Europe for close to four weeks at the end of the season just to travel and have a break and so some different things. It was the most fun I've ever had. Coming back from that, I felt extremely mentally fresh and ready to attack this season.
In a footy sense, I've just continued to work hard since coming back and having the addition of Hodgey at the club, I've tried to pick his brain and learn as much as possible as I can from him.
Wingard: Are you concerned at all about the second year blues? You has such a good end to last season, so can we expect similiar this coming year?
Witherden: I think heading into every season I get nervous about how I'm going to go. It's such a long time between games that you often stress that you'll be no good when you come back to play… however the club have been really good in challenging me to try and go to the next level and they are supporting me in every way possivle to hopefully take the next step. Hopefully after a full preseason and tweaking bits and pieces of my game, I'll be able to put my complete performances together.
I'm not at all satisfied with how I played last year. There's still a lot of work to do this preseason as the competition for spots is really hot at the moment. I'm just trying to tick all of the boxes to give myself the best opportunity of being in the Round 1 team.
Wingard: Last question. Have you noticed anything different at the Lions this year? What can we expect from the group in 2018?
Witherden: There is just a massive buzz around the club at the moment; everyone is just jumping out of their skin ready to play and get better. The key thing with our group is that we are looking to get better with every session that we do and we are looking to do it together.
Obviously, having Hodgey at the club has been massive, and he along with (Dayne) Beamsy and the rest of the playing group have been driving the standard of training. Where we are now compared to this time last year are poles apart.
Why Shouldn't I Pick Him?
Back in 1978, movie-musical blockbuster Grease hit the silver screen, and in the process, became one of the most universally adored films of all time. Four years later, the sequel – Grease 2 – was released, and it flopped, palling in comparison to it's predecessor. Much the same, sort of, Witherden's rookie season was exceptional. It's what coaches expect of seasoned defenders let alone an 18-year old who has barely played a wink of footy in over a year. Perhaps it was too good to be true, and like Grease, anomalies in their respective prisms. Often, we see players regress in their sophomore season and the same too could affect Witherden, who's expectations are well beyond any other player of his draft class.
Grease had a budget of just $6million yet Grease 2 however, had a budget of $13.2million; more than double than the original. Yet still, it failed at the box office. Too, while Witherden would have could a tick over $200,000 one year ago, his finish to last season has saw his price skyrocket to well over $600,000 and will enter 2018 the 14th most expensive defender in the game. Perhaps the outlay is too much all things considering. His small sample size makes him an uncomfortable first or second defender right from Round 1, which is the territory for which his price suggests. As a third defender, he yields far greater appeal, yet in a platform where every dollar saved counts, cheaper options such as Brandon Ellis or Zac Williams may be better options.
To really clutch at straws, it may be worth mentioning his history with injuries. Across the journey, Witherden has suffered a broken leg in 2016, a double hip arthroscopy back in 2014 and two separate hamstring tweaks in 2017 – which forced him to miss four and half games. While unlikely to bare any significant repercussions this season, again, they've happened and thus worth the mention.
Deck of DT Rating
QUEEN – I've tried my best to be impartial on this one, but I love Witherden more than most. Not only is he a seriously talented and intelligent footballer, Witherden executes an elite level of consistency defenders struggle to produce. While his games tally still remains in single digits, nothing has yet to occur that would seriously deter coaches from picking him. Let's hope the sequel is better than the original this time.
Loading ...
FOLLOW ME ON TWITTER: @AntWingard for all thing AFL Fantasy (and more). Got something to say about the deck? Use the hashtag… #DeckofDT.