First wave of DPPs – Ep. 129
Robbie Gray has been awarded DPP as well as 23 others. Roy, Calvin and Warnie discuss the lot.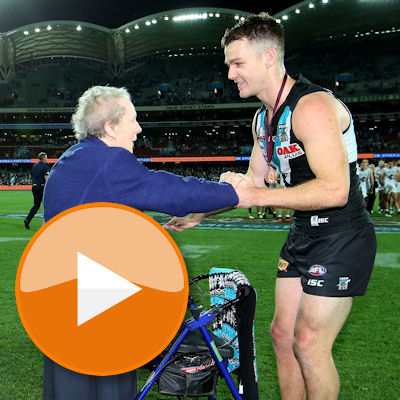 Every six rounds, the number crunchers at Champion Data work with the team at Fantasy HQ to adjust positions of players to reflect their roles in 2017.
Where they line up, gather possessions and their heat maps all go into the mix to award players with dual position status ahead of round six, 12 and 18.
In the first round of changes, 24 players have had a position added.
Robbie Gray has regained the MID/FWD status that he has held across most of his years. Mitch Robinson and Michael Barlow are other midfielders to pick up dual positioning and could be among the best of the forwards available for the rest of the season.
Popular cash cows Andy Otten and Dan Houston have added FWD and DEF status making the duo share the swingman link of DEF/FWD. This may prove to become very handy when trading around the bye rounds.
Draft coaches who selected Brandon Ellis and Cameron Guthrie will have some consolation for this slow start to the year with the ability to throw them in defence.
On this week's podcast, Roy, Calvin and Warnie discuss each DPP adjustment in detail, together with exclusive numbers from Champion Data.
Click here to subscribe on iTunes. (Please leave a rating and review to help us move up the charts).
Heading to #AFLHawksSaints? Come and join us for post-game #AFLFantasy beers!
🍻 Gunners Arms, L'ton
📅 Saturday 29 April
⏰ From approx. 5pm

— DT Talk (@DTTALK) April 26, 2017
Player
Club
Initial
New
Price
Own
%
ADP
Avg
Kade Simpson
CARL
DEF
MID
$552000
10
28
93.6
Michael Barlow
GCS
MID
FWD
$527000
1.5
97
90.4
Robbie Gray
PA
MID
FWD
$530000
2.1
83
89.6
Mitch Robinson
BL
MID
FWD
$504000
0.3
197
88.8
Shaun Higgins
NM
FWD
MID
$499000
2
148
88.5
Will Hoskin-Elliott
COLL
FWD
MID
$418000
41.4
212
87.4
Darcy Parish
ESS
MID
FWD
$468000
2.4
244
84.4
Zak Jones
SYD
DEF
MID
$409000
12.9
177
80.4
Dan Houston
PA
FWD
DEF
$343000
24.6
N/A
78
Jason Castagna
RICH
DEF
FWD
$376000
8.2
N/A
76.5
Reece Conca
RICH
MID
DEF
$399000
6.5
N/A
76.5
Curtly Hampton
ADE
DEF
MID
$343000
46
209
76.4
Lachie Weller
FRE
FWD
DEF
$399000
0.6
N/A
73.8
George Hewett
SYD
FWD
MID
$395000
0.7
N/A
73.4
Jake Barrett
BL
MID
FWD
$241000
35.3
N/A
70.7
Andy Otten
ADE
DEF
FWD
$302000
40.8
N/A
69.2
Jake Melksham
MEL
MID
DEF
$373000
1.4
316
69
Anthony McDonald-Tipungwuti
ESS
DEF
FWD
$387000
6.7
254
68.6
Brandon Ellis
RICH
MID
DEF
$434000
4.2
129
67.8
Shaun Atley
NM
DEF
MID
$362000
0.7
N/A
65.6
Kieren Jack
SYD
MID
FWD
$425000
0.8
143
62.4
Cameron Guthrie
GEE
MID
DEF
$422000
0.6
223
60.7
Harry Taylor
GEE
DEF
FWD
$321000
1.4
318
52.8
Jacob Weitering
CARL
DEF
FWD
$315000
8.5
288
51