Jack Redden – Deck of DT 2017
He's been an uber premium in the past and bloody cheap, but is he worth a punt?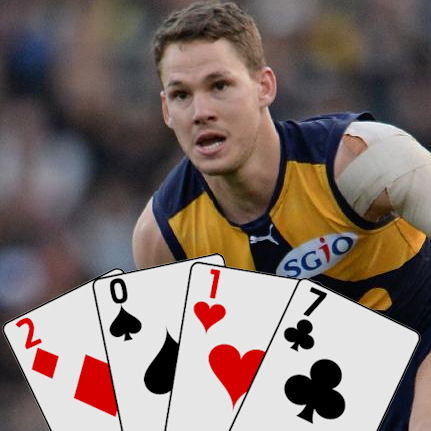 Name: Jack Redden
Team: West Coast
Position: MID
AFL Fantasy: $392,000
Bye Round: 12
2016 Average: 64.9
2016 Games Played: 15
Predicted Average: 90
Click here for DT Live profile.
Why should I pick him?
You may not remember it, but Jack Redden was once one of the next big things in fantasy footy. He was basically today's Jack Viney although with half the jaw line. Before he had even turned 24, Redden had already posted three seasons above 100 and another season at 94. From ages 21-24, across five seasons, Redden averaged 101.96.
From 2011-2015, in which Redden played a total of 90 games, he hit the 90-point mark in 72.16% of those games. He was really good, but at the same time, severely underrated. Since then, mirroring his move to West Coast at the end of 2015, Redden's star has rescinded and his average, and consequentially his price, has dwindled.
Earlier in his career, Redden was the perfect fantasy midfielder. While he was never a huge ball winner, averaging above 25 touches per game just once in his career, he's an elite tackle – one of the best in the league in fact, and is good for around five marks per game. Including his rookie season and his poor 2016, Redden still averaged 6.1 tackles per game in his career. That's upward of 30 points each week just from tackles.
His 2016 season was disappointing, dropping his average by over 30 points. Yikes. His poor season however, can somewhat be attributed to his lack of preseason and conditioning before Round 1. He had groin and hernia surgery in the offseason and didn't train for a minute in preseason as a result. Redden was poor, yet it's the persistent issues that plagued his year ultimate unhinged his season. Unlike a year ago, Redden's preseason has been exceptional this time around. He's actually been training which is one step ahead, but having added a few kilograms to his frame while also posting personal-bests in the 2km run.
If Redden's interrupted preseason last year was the catalyst for his decline, his improved preseason this year could, transversely, be the springboard for a renaissance.
Redden also has the bye in Round 12, which looms as an attractive prospect this year. Only four teams share the bye that week, including North Melbourne, who may have the least attractive midfield in the league this season.
Why shouldn't I pick him?
It's fair to stay that Redden's first year out west was nothing short of mediocre – it was bang average. It's hard to remember what he was once capable of. If he had averaged once more kick in 2014, Redden would have compiled a better fantasy campaign than Scott Pendlebury. He was once one of the most consistent players in the league having played 113 straight games from his debut in Round 15 2009. In 2016, he played just 15 games – the lowest tally since his rookie season. In his last few years in Brisbane, Redden's continuity also wined, playing 14 and 17 games in his final two years in the Sunshine state.
2016 saw his average drop by an unprecedented 32.1 points from the previous season. Largely due to a regression in disposals – where he produced his lowest numbers since his sophomore year, Redden was a mere shadow of the player which he once was. His tackles numbers, usually his bread and butter, also dropped, which is a serious concern if he is unable to recapture his earlier form. He still rated above average in the league for tackles, although it's still a far cry from the 6.76 tackles per game he averaged from 2011-2015.
Redden was dropped from the team for the first time in his career in 2016. While his year was poor, largely due to his delayed preseason and prolonged niggles along the way, it suggests his standing in the Eagles' team is far from safe. West Coast already have Matt Priddis and Sam Mitchell in their engine room, which raises concerns as to where Redden actually fits into the side. Even if he's afforded a spot in the side, there's no guarantee that he'll replicate his past numbers if he's not employed in a similar inside midfielder role. He lacks speed, and doesn't have the spatial awareness of blokes like Andrew Gaff and Luke Shuey.
Then there is Redden's price. Mid-price options are risky at the best of times, but considering Redden costs $392k; $28k more than Jaeger O'Meara, he'd ought to recapture his form to make the investment worthwhile. It's a huge gamble and one not too many people will likely be willing to take.
Deck of DT Rating.
RATING – Jack
I fully expect a renaissance year from Redden this season with a full preseason under his belt. His scoring history stacks up with the best across the past half-decade. His price and uncertainty in regards to his role are the biggest concerns however, and it's unlikely he'll feature in many team's rosters in Round 1 as a result. Perhaps one for the draft leagues.
Loading ...
FOLLOW ME ON TWITTER: @AntWingardFP for all thing AFL Fantasy (and more). Got something to say about the deck? Use the hashtag… #DeckofDT.