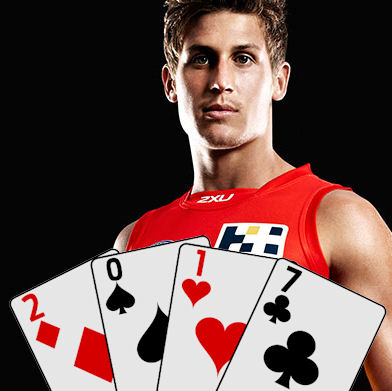 Name: David Swallow
Team: Gold Coast
Position: Midfielder
AFL Fantasy: $355,000
Bye Round: 9
2015* Average: 85.8
2015* Games Played: 6
Predicted Average: 85
Click here for DT Live profile.
Why should I pick him?
Swallow has always been earmarked as one to watch in the prism of fantasy sports, and for the better part of his six year stint in the top flight, he's delivered. In his last 28 games at the top level, Swallow has averaged – most of those games coming in his breakout 2014 season.
Obviously, the most attractive thing about Swallow heading into 2017 is his price. Realistically, most sides are going to opt with one medium priced midfielder to start the season with, and Swallow fits the mould perfectly. Having managed just half a dozen games over the past two seasons, whereby he averaged 85.8, Swallow is priced at an average of 58.95.
His price puts him in the same category as other medium priced midfielders Jaeger O'Meara and Scott Selwood. Yet Swallow is $9k cheaper than O'Meara and $25k cheaper than Selwood. O'Meara is unlikely to dress up for the first few rounds leaving Swallow as the top candidate to hold down the sixth midfielder position.
From all reports coming out of the Suns camp this preseason, in a bid to reach full fitness in the preseason, Swallow is training like a man on a mission. In September, the players' holiday season, Swallow stayed home and trained.
Of course, Swallow has been relevant before. His best season came in 2014 when he was a dual position defender. His average of 93.8 was the highest of his career to date and was indicative of the potential, and the consistency, of which is able to achieve. He scored above the 90 mark in 50% of his games and dropped below 70 points just once all season.
But unlike 2014, where he could be selected as a defender, Swallow is only a midfielder this season. Yet if he does play, he could be a chance of moving to defence, gaining DPP at some stage this season. Swallow played one and a half games of NEAFL football in 2016 after returning from his knee injury late in the season. In all six quarters, Swallow sat as the loose man in defence, accumulating a total of 26 touches and ten marks throughout. His move to defence may merely have been to ease him back into the rigors of top football though it may also be to signal a possible position change – it's really anyone's guess. At AFL level, the Suns lack a potent ball user across half back; one who truly controls the game from defence. David Swallow could be that man.
Why shouldn't I pick him?
Round 15 2015 – Gold Coast hosted the Western Bulldogs in Cairns. That was David Swallow's last game at AFL level. Since then, he has missed 30 consecutive of the Suns' games. Should he return fit and play Round 1, there's no knowing what to fully expect from him. If we have learnt anything from the past three years, it's that having multiple long term injuries at the Gold Coast isn't ideal.
If Jaeger O'Meara somehow is fit for Round 1, Swallow's relevance drops even further. Not only is he a better fantasy prospect, he's a better footballer as well, and while he may take some time to adapt to Hawthorn's match day environment, he still is less of a concern than Swallow may be.
When I wrote about Brayden Fiorini earlier in the frame, I touched on Gold Coast's Round 9 bye. With the bye earlier than other teams, coaches are going to have to take a donut during that week or hope a rookie gets called up. Transversely, it is an extra player coaches will have across all three of the other bye round where the Best 18 rule is in play. Whether you see it as a positive or a negative, it's still certainly something to consider when picking any Gold Coast or Port Adelaide players in your team.
Deck of DT Rating
JACK – Let's say O'Meara isn't fit come Round 1; Swallow is the best medium priced midfielder in AFL Fantasy. With his priced set at an averaged below 60, Swallow should beat that score every day of the week. Even if he only averages in the low 80s, he's still bound to make coaches some serious coin, and with a potential DPP change on the cards, maybe, he could just be too good to ignore.
Loading ...
FOLLOW ME ON TWITTER: @AntWingardFP for all thing AFL Fantasy (and more). Got something to say about the deck? Use the hashtag… #DeckofDT.