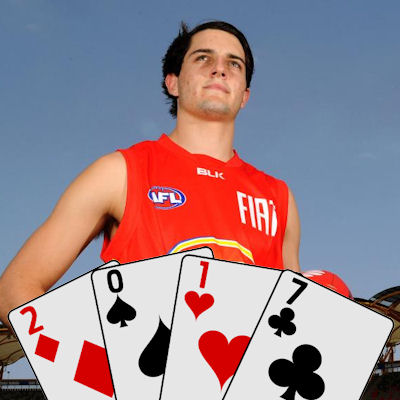 Name: Brayden Fiorini
Team: Gold Coast
Position: MID
AFL Fantasy: $512 000
Bye Round: 9
2016 Average: 111.5
2016 Games Played: 2
Predicted Average: 95
Click here for DT Live profile.
Why should I pick him?
There are truly countless reasons to say why Brayden Fiorini should warrant selection in your side next season. I certainly have plenty to say about the kid, having watched him as a junior, in the NEAFL and even called that game where he scored 166.
The biggest reason to pick Fiorini is down to the simple fact that he has already shown more promise in two games than the large majority of his draft class have shown in two-thirds of a season. Simply put, Fiorini is the best fantasy rookie since Michael Barlow.
In just his second game, he scored 166 points. Incredible. He finished with 32 disposals, 12 tackles – both team highs, five clearances, 27 pressure acts and seven score involvements. There's always been a notion that big fantasy scorers aren't necessarily the best team contributors, and whilst I've been one to go on record saying Tom Rockliff isn't the biggest contributor, you cannot refute the numbers listed above.
In the week leading up to the game, both Dion Prestia and Jaeger O'Meara both signalled their intentions to seek a trade at year's end. And what better impression to leave on your coaches before the end of season, with midfield spots up for grabs, than what Fiorini produced in Round 23?
Yet with Prestia and O'Meara out of the picture, there's another point people always claim. The Suns drafted a host of capable midfielders in November's draft, plus the return of David Swallow to the team, meaning Fiorini could already find himself on the outer, again. To that, I say bollocks. He already has a leg up on the rookies having not only been in the system for a year longer – whereby he was lauded by the coaching staff – but also for producing one of the best second games of any player, ever.
As for Swallow, the Suns lack a damaging ball user across half-back, and he is that man. His last game for the season, against Southport in the NEAFL, indicated just that.
Before Fiorini even found his way onto an AFL list, he had shown plenty to suggest he could be one of football's finest in no time. A move form half-back to the midfield during his final year of TAC Cup yielded an average 130.3 – the most of any player from last year's draft class in that competition.
Across the NEAFL, his scores were equally as impressive and as consistent. Apart from two games – one of which he injured his knee at the end of the first quarter, and the other where he was managed in his game back, Fiorini averaged 30.2 disposals, 4.2 tackles, 2.25 goals and 129.8 points.
While many may have believed that a sample size of just two games isn't a big enough sample size to pick a bloke priced upward of $500k, looking deeper paints a bigger picture. Across all three leagues which Fiorini has played in over the past two years, he has averaged 123.88 from 19 games.
For most, his price will be the stifling factor as to why many won't pick him. But priced at 85, his pedigree across the last two seasons has shown he is easily capable of matching that. Sure, it would have been nice to have gotten him at a cheaper price, yet for a player whose draft-eligible year was moulded on the system that made Marcus Bontempelli a top ten pick, it seems quite accurate in all.
All class #️⃣2️⃣9️⃣ #AFLSunsPower https://t.co/J751CXOCv6

— Gold Coast Suns (@GoldCoastSUNS) August 27, 2016
Why shouldn't I pick him?
Fiorini's price will be his biggest deterring factor in the preseason. For further explanation on this, please refer to paragraph above.
His track record just two games into his career is remarkable, but there seems to be a large asterisk beside that. After all, it is only two games at the top level and we all know the top flight is a different kettle of fish. Whether Fiorini will be able to maintain a healthy scoring rate across the whole, or at least the first part of the year, remains a mystery. Picking him in your sides is a high risk, high reward scenario.
Do you really want to risk it, with that price tag, for a guy who has played the same number of AFL games as Relton Roberts?
Next is his bye week. Gold Coast play Port Adelaide play in China in Round 8, and have subsequently had their bye round moved forward to accommodate the trip. What this means is that for Suns and Power players, we won't be afforded the luxury of the 'Best 18' rule in Round 9 like the other bye weeks, and will have to bench them for that week. If you're chasing a high ranking in the overall standings, having a player from either of these two teams would severely hinder that midseason.
Marc Murphy is priced at $482 000 – $40k cheaper than Fiorini. Picking one player would guarantee you a safe score in Round 9, whereas picking the other would mean copping either a donut on your field or hoping someone like Jake Barrett gets a crack that week.
Fiorini's 166 score in Round 23 was against Port Adelaide, who gave up the fifth most points to the opposition this season. The Power also rank fifth for scores above 120 allowed. For parts of the game, he played on Will Snelling, who made his debut in that game. If concerns can be raised about his ability to score against seasoned opposition, what can truly be taken away in his few AFL games if he was playing on a rookie, similar to what he had done in the lower competitions?
DECK of DT Rating
KING – Fiorini is a huge risk to kick off the season with, and could either pay dividends or headache. His form thus far in his career paint a glowing representation of his talent, yet unless he replicates that form at the top level again, we can only take that with a grain of salt.
Loading ...
FOLLOW ME ON TWITTER: @AntWingardFP for all thing AFL Fantasy (and more). Got something to say about the deck? Use the hashtag… #DeckofDT.