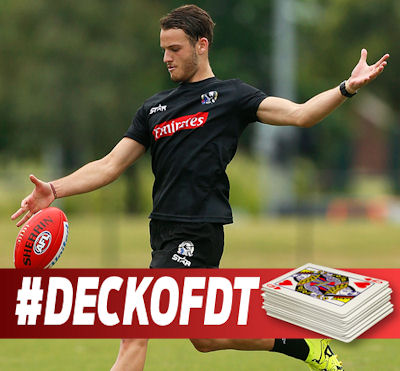 Name: James Aish
Team: Collingwood
Position: Defender/Midfielder
AFL Fantasy: $293,000
AFL Dream Team: $307,200
Bye Round: 13
2015 Average: 53
2015 Games Played: 11
Predicted Average: 75-80
Click here for DT Live profile.
Why should I pick him?
In his draft class, Aish was pencilled in as a top two pick for most of the season. A shoulder injury interrupted that, and he fell to Brisbane at #7 in a best available scenario – didn't that work out well.
Debuting in Round 1, Aish would go on to play 21 games for the season at an average of 74.2. The signs were looking good. Aish produced ten scores over 75 and another of 74. While being a predominantly outside midfielder, he also showed a knack for tackling with a further nine games with four or more tackles, twice registering nine. Coincidentally, in both games in which Aish laid nine tackles, he hit reach a fantasy ton.
His rookie season brought upon three tons, including a career best 140 against North Melbourne in Round 15.
While his first season looked promising, there is no secret in denying his second season was just really bad, plainly put. He suffered injury setbacks, fell out of favour with the coach and played a role which didn't benefit his fantasy game in the slightest.
However, and fortunately for fantasy coaches, that swashbuckling role has brought upon two distinct benefits for 2016.
Firstly is the obvious positional upgrade to a defender/midfielder. Heat maps of outside midfielders tend to lean toward the defensive side of the ball, however don't warrant enough for a permanent position change. In Aish's circumstance, whether it be due to lacklustre Lions or not, it proved to be enough.
His price also makes him an attractive option, particularly under the revamped pricing system. At 293k, Aish is severely under-priced. Forget about posting career best figures in 2016, if he went to just match his 2013 average, he is sure to generate some serious coin. Heading into his third season, a breakout is looming so we ought to expect a significant improvement on top of the 74.04 he average in his rookie season.
In comparison, other hotly touted prospects Orazio Fantasia and Brayden Maynard will cost an extra $17k and $19k respectively, while everyone's favourite Prince, Heretier Lumumba will set you back $22k.
Why shouldn't I pick him?
After making the move from Brisbane to Collingwood in the offseason, it still remains to be seen just where and how he fits into the Magpies' line up. It's no secret that Aish is a talented kid, but so too is the midfield he'll be integrated into. Pendlebury, Swan, Sidebottom, Crisp, Adams, Greenwood, Trel- you get the point.
There have already been rumours of Sidebottom spending more time forward, while the likelihood of Swan doing the same may be on the rise. Yet in the grand scheme of things, Aish is admittedly lower down the pecking order and may have to bide his time throughout 2016.
Serious questions also have to be raised about his ability to find his own footy. This trend dates back to his U/18 Championship days, where he averaged a touch over 15 disposals per game and was among the lowest contested possession rate midfielders. Across his career in the AFL, he is yet to record more than 25 disposals in a game.
This was at Brisbane too mind you, and it would be fair to assume it will be even harder to win the ball in the Collingwood midfield. Fantasy rewards players who win their own footy – that's the nature of the game, and if Aish doesn't fit that bill, he'll find it increasingly hard to find a spot in fantasy teams.
Deck of DT Rating:
JACK – Aish will be a tempting option and will likely find his way into many fantasy squads. His price and position means he carries minimal risk if he doesn't fire and bountiful value if he does. It remains to be seen how Aish will fit into Collingwood's line-up, meaning the verdict is still out on his immediate and long-term fantasy prospects. If he is able to lift his ball winning numbers and maintain his tackling figures, Aish could prove to be one of the biggest cash cows of 2016.
Loading ...
FOLLOW ME ON TWITTER: @AntWingardFP for all thing AFL Fantasy (and more). Got something to say about the deck? Use the hashtag… #DeckofDT.