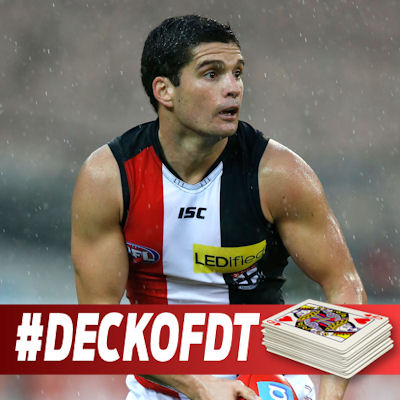 Name: Leigh Montagna
Team: St Kilda
AFL Fantasy: $603 000
AFL Dream Team: $
Bye Round: 13
2015 Average: 109.0
2015 Games Played: 17
Predicted Average: 96.5
Click here for DT Live profile.
Why should I pick him?
The team at Champion Data have blessed us this time around, granting Montagna with forward DPP status despite playing as what appeared to be and out and out midfielder.
Across the last decade, Montagna has built a reputation as one of the most durable and consistent players going around. He has averaged below 90 just once since 2007 and has played more than 20 games in each season – aside from 2015 where he played 17 games.
He hasn't exactly been the sexiest of fantasy premiums across recent seasons, but a quick look at the stats show us we probably ought to have considered him more. Oh, and did I mention he has forward status.
From 2012 on, Montagna has scored above 100 in over half of his games. This on its own speaks wonders of his fantasy potential. When matched against fantasy's poster boy, Tom Rockliff, Montagna again comes out triumphant albeit is marginally. But unlike Rockliff, Montagna can be selected as a forward… did I mention that already?
When compared to Dustin Martin, arguably the next best fantasy forward in 2016, Montagna holds a distinct advantage.
Why shouldn't I pick him?
When Montagna's forward status was announced, the general feeling was one of jubilation, astonishment and confusion. Further details of what went into dictating fantasy positions were released, one of which mentioned where a player is named in the starting line-up. In Montagna's case, it's fair to assume this facet influenced the granting of his dual position status.
Yet this alone may be cause for concern. If Montagna, a veteran midfielder of 13 seasons is being relegated from primary midfield duties, his fantasy impact is sure to take a toll. We've seen the likes of Swan and Rockliff toil in the forward line and their fantasy production and prices plummeted.
At 32, Montagna is in nearing the end of his career. The emergence of Jack Steven and David Armitage along with the continual development of youngsters such as Seb Ross and Blake Acres could make Montagna's midfield time redundant. As the St Kilda rebuild turns full circle, more emphasis is sure to fall on the next generation as they prepare for another premiership tilt.
Of course, these are all intangible scenarios, which may or may not come to fruition. Something we do know is his price. Montagna will set you back a fair chunk of your salary cap and is priced at an average of 109.04. While it is achievable, it may be safer to spend the cash on the similarly priced Dustin Martin who is just reaching his peak in the league. Keep in mind Barney Stinson's golden rule: 'new is always better.'
Deck of DT Rating:
KING – As a midfielder, Montagna is elite. As a forward, Montagna is close to a lock. He has shown consistency and durability throughout his career and injury aside, looks primed to perch among the top five in his position in 2016. As we know however, fantasy is much about riding the stock market as it is producing top scores every week. With AFL Fantasy in particular set to trend toward a more 'mid-price' strategy, paying top dollar for Montagna could be a risky venture – especially at his age.
Loading ...
FOLLOW ME ON TWITTER: @AntWingardFP for all thing AFL Fantasy (and more). Got something to say about the deck? Use the hashtag… #DeckofDT.