Daniel's Dilemma: Prices are down
Some of our 'set and forget' premiums are rapidly approaching rock bottom in price.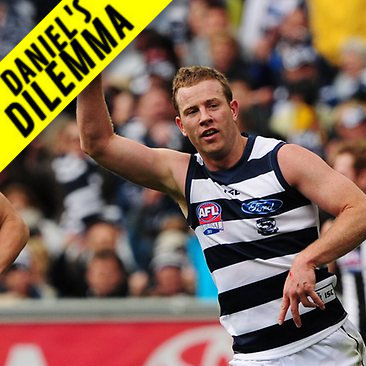 Welcome back to Daniel's Dilemma! Another week, another dilemma and most coaches found themselves back in the '2k club' after a solid week of scores across the ground. Thankfully, we found some consistency in Round 5, which was a nice change considering the carnage that we have been dealt with in the opening four rounds. However, headaches still were imminent as we saw some of our 'set and forget' premiums plummet down in price.
Tom Rockliff ($585,000), Rory Sloane ($561,000), Michael Barlow ($535,000) and Steve Johnson ($458,000) are prime examples of the sudden price deduction that has occurred over the past few weeks and these are the four players I will be focusing on throughout article. All players come into Round 6 with unachievable breakeven's, which adds to the loss of price that the players are already currently experiencing.
However, it will only be a matter of time before these players become ripe for the picking, giving you the opportunity to trade out your underperforming midfileders for cheap Fantasy stars!
1. Tom Rockliff
Current Price: $585,000
Overall Price Loss: $-178,000
Breakeven: 227
Predicted R6 Score: 66–75 v Carlton*
Verdict:  Rockliff has endured a very 'rocky' start to season 2015, after he amassed an incredible 134.7 point average and earned the honouring title of being a 'Fantasy #Pig' in 2014.
However, major injuries have halted his Fantasy scoring potential and he could now face even more time off the field after he was KOed against Gold Coast on Saturday according to Doc Larkins. This isn't good news for Rockliff as he now faces an uphill battle to obtain match fitness after sickening incidents, which in turn limits his scoring potential if he isn't playing at his best.
So now the question looms as to when we should bring Rockliff into our teams, with some suggesting that he would be ripe for the picking after he acquires triple figures.
Brisbane comes up against Carlton this week and even if he does play, he will have to overcome the wealth of taggers that the Blues possess as well as spend an increasing amount of time forward like he did against the Eagles. I can't see him scoring anything over 75, or even less, as the score of 66 against West Coast is a good indication of how he can perform under an injury cloud. If he does manage to score within this range, his price will drop to about $520k, while his breakeven soars towards the 300 point mark.
Though it does get better for Rockliff and Brisbane as the bye's approach, with two relatively easy games in St.Kilda and GWS in Round 9 and Round 10 respectively, which is when Rockliff could hit his straps and pump out the 100+ scores.
However, it all comes down to how the Lions' medical staff deals with Rockliff. It would be smart to rest him until fit, but considering the form they are in at the moment I don't think patience would be high on the priority list for their star midfielder.
In saying this, I believe as soon as Rockliff starts showing us he can go big, we should start showing the faith in selecting him into our sides. A Fantasy pig around the $550k is an absolute steal, so don't hesitate in bringing him in when the situation arises!
2. Rory Sloane
Current Price: $561,000
Current Price Loss: $-31,000
Breakeven: 141
Predicted R6 Score: 90-105*
Verdict: Despite the concern of Doc Larkins, Sloanes' injury is nothing to be alarmed about considering Robbie Gray suffered a similar injury last week, to then play against bitter rivals Adelaide Crows in the Showdown and win the best on ground medal for his efforts.
However, that doesn't mean his price won't drop as I predict him to score around 100 points this week against Gold Coast if he does play. His breakeven is at a whopping 141, which is definitely out of reach for Sloane but piques the interest of the Crows midfielder for coaches who don't currently own him.
It was only until recently that Sloane suffered a dip in form, starting off the season in red hot form with back to back tons. We all know he can produce the goods, but when will it be time for us to jump Sloane before it's too late?
Sloane's breakeven will roughly stay about the same, meaning he will bottom out within the next couple of rounds. With Gold Coast in Round 6, St.Kilda in Round 7 and GWS in Round 8, Sloane could be back amongst the 130's very soon which gives us a clear indication of when to obtain his services.
His calf shouldn't be an issue but is worth keeping a look out for! Watch his score this week and unless he doesn't play or plays and scores another shocking 60, then look to bring him into your midfield for someone like Parker in Round 7.
3. Michael Barlow
Current Price: $535,000
Current Price Loss: $-92,000
Breakeven: 128
Predicted R6 Score: 90-105
Verdict: Unlike the other two players above, Barlow is a certainty to line up for the Dockers against Essendon this weekend, a team that Barlow interestingly likes to play.
In his 3 games he has played against the Bombers, Barlow has averaged 105.7. However, the last time he did actually come up against Essendon was in 2013 in which he only scored 90. These stats don't contribute much too when we should get him in, but it is something to think about if you do currently own him.
For the coaches that don't own the Dockers midfielder, it would be worth noting that his breakeven for this week is 128 which are achievable by his lofty standards, but there is always chance that Barlow can drop in price again this week.
I doubt he will throw up a stinking score of 60; however he will score around the 100 point mark which means he will only drop to the low 500k mark. This means that you don't need to be stacked up in cash to get him for someone like Beams, Parker, Kennedy, Ellis etc.
If you are extremely tight for cash you can always wait for another price drop, but if you only plan in using one trade to get in a new DPP this week (which may be the case with Lewis/Hodge out) then acquiring Barlow now is recommended because he will not drop anymore in price after this week.
This situation is more about how much he has lost, instead of when you should get him in. Two poor scores have lowered his price by a massive $92k and it just goes to show you that picking a premium that may be inconsistent could be very costly in the long run.
4. Steve Johnson
Current Price: $458,000
Current Price Loss: $155,000k
Breakeven: 126
Predicted R6 Score: 80-95 (hopefully!)
Verdict: An injury interrupted pre-season and a Green Vest has gifted us an extremely cheap Steve Johnson however his scores aren't anything to brag about.
He has only averaged 69.4 in the first five rounds this season (74.5 without the vest) and even though the pig like tendencies have been evident in his play, they haven't been on display consistently enough for me to pick him up ASAP.
After his 49 in one quarter against North Melbourne, I thought without a vest on him he could return to the Stevie J of old. A 67 against Richmond though wasn't the Stevie J of old as he continues to struggle in regards to Fantasy tons.
He has already lost a ridiculous $155k off his starting price, which means he will soon bottom out, leaving us with the option of either picking him up or leave him high and dry on Fantasy market for about $400k. This predicament that he is facing at the moment more than likely has something to do with his sudden positional change. He came on a snagged two quick goals against North, which explains his high score in only 25 minutes of footy. In the other four games he has also spent an increasing amount of time forward, aimlessly sitting in the front half instead of being on the ball.
However, his form may take a turn for the better as the Cats take on Collingwood, Sydney and Carlton in his next 3 games; the latter being a team he notoriously struggles against. The Pies and the Swans have posed different threats in the past though, with Macaffer usually moving to Johnson and Kieran Jack keeping a close eye on him throughout the course of the game. These two hindrances have generally kept Johnson at bay, but now they are no longer in the equation, it could mean that Johnson can produce some decent scores. Unfortunately, he has a breakeven of 126 this week and I can't see him reaching that, but his scores will dramatically improve and may offer a point of difference in the coming weeks.
There is no denying Johnsons' potential; however I still believe we need to see consistent performances from him before we can consider jumping on him. It would be worth keeping tabs on him throughout the next two weeks against opposition that he general likes playing and if he still doesn't perform, then I would have to pass and reconsider.
Thanks for tuning in and reading this week's article! Make sure you keep an eye on the above players as they don't come any cheaper than this in Fantasy.