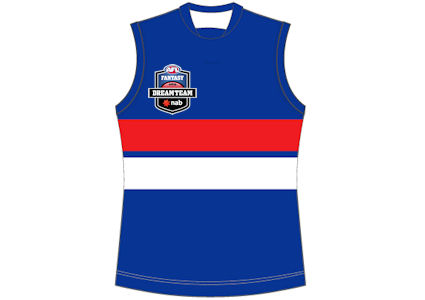 This series of 'club preview' posts are written by DT TALK regular contributors choosing their 5 players they have on their watchlist from the respective club. These aren't who we think will be the top 5 highest scoring players… and are not necessarily in order. They are just our opinions of the 5 players who we have on our watchlist heading into the 2013 season.
AKI'S FIVE FROM THE DOGS
1. Matthew Boyd (MID) $593,700
First things first. Put his age concern to bed. Boyd will continue to be a gun performer for the Dogs until he hangs up his boots. For the last 3 years he has averaged over 115. For the last 6 years he has averaged over 90. In the last 7 years he has played in 20 games or more. Matthew Boyd is one of the DT greats. He doesn't get the plaudits like Swan or Ablett, but he should. Simple fact is, he will end up in your team at some stage without you batting an eyelid. Lock.
2. Brett Goodes (DEF) $121,300
Finally given a chance in the AFL, this 29 year old mature age rebounding defender has impressed everyone. As a DEF/MID with a rookie price of $121k, you would be crazy to not throw him in your back line. Has looked great bringing the ball out of Bulldogs defense during the NAB and did push up the ground a fair bit to find the footy as well. Is on the rookie list at the Dogs. Which I am sure he will be upgraded off if he hasn't already.
3. Nick Lower (MID) $352,200
Now at his 3rd club after stints at Port Adelaide and Fremantle, Lower is looking to cement himself into the best 22. Has played in all 4 of the Dogs NAB Cup games and has looked quite impressive. Is a quick and strong midfielder who knows how to go a get the ball. The only worry I have is he will be competing with the likes of Boyd, Griffen, Cooney,Wallis and Libba who are also magnets when in form. Lower averaged 97 in his 3 games last year and in 2011 he averaged 75 in the 19 games he played. Worth considering.
4. Koby Stevens (MID) $204,800
21 year old Stevens played 11 games for the Eagles in his 3 years over in the West. Minor injuries and the Eagles depth in midfield meant Koby missed out. With his age on his side Koby is now with the Dogs and looking to finally get some regular game-time. I rate Koby a lot. He is very fit and doesn't mind putting his head over the ball. He can play off a half forward flank if need be as well. Also at his price, he is worth a look. For me, I'll monitor the early rounds and see if Koby looks ready to have a solid year.
5. Shaun Higgins (FWD), $396,200
I can hear the groans again. I can feel the pain again. Higgins is the Captain of the infamous, Never Again FC. What makes it even worse, is that Higgins is currently monitoring a foot injury leading up to Round 1. But in saying all this, he really has the potential to average 90-95+. Surely one year Higgins' body will stop breaking down and he will be able to play 3 games in a row. He is only 24 and coming into his 8th year in the AFL. Has averaged over 75 in the last 4 years with last years average being his lowest of the 4. Did average 88 in 2009 in 17 games. There is no doubting his talent, but there are lots of concern over his ability to play out matches. 44 trades, worth a look though.
OTHERS ON THE WATCHLIST:
Others to keep an eye out would be young gun pairing of Mitch Walls (MID) $427,600 and Tom Liberatore (MID) $401,300. Mitch averaged 83 last year in the 19 games he played whilst Libba averaged 77 in the 17 games he played before his club suspension. Both players could break out with the former my preferred of the two. The trio of Ryan Griffen (MID) $500,500, Adam Cooney (MID) $388,200 and Daniel Cross (MID) $470,700 are no slouches but you would be hard pressed to include them in your side. If Cooney gets back to his Brownlow winning form, at his current price, he is a steal.  Bulldog rookies Jake Stringer (FWD) $165,700 and Jackson Macrae (MID) $161,200 do offer value but both are not guaranteed a start in Round 1. Monitor those 2 closely as they could become great downgrade targets as the year progresses.
FOLLOW ON TWITTER: 

@

Aki_DT
This is the final of the Club Previews. A huge thank you to all of the DT TALK writers who gave up their time to write up these brilliant articles. Click here to see the archive of them.