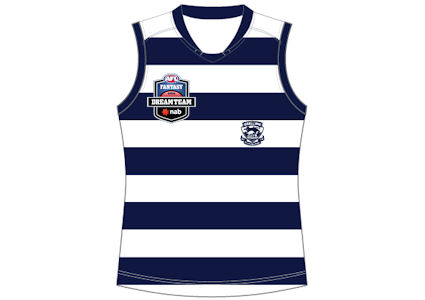 This series of 'club preview' posts are written by DT TALK regular contributors choosing their 5 players they have on their watchlist from the respective club. These aren't who we think will be the top 5 highest scoring players… and are not necessarily in order. They are just our opinions of the 5 players who we have on our watchlist heading into the 2013 season.
AMANDA'S FIVE FROM THE CATS
Joel Selwood (MID), $530,900
The Geelong captain is as consistent as they come. A popular pick in the previous two seasons, it seems he's further down the list this year. And I'm not quite sure why. I know we're spoiled for choice when it comes to premium midfielders but it's important not to overlook any of them, Selwood included.  Selwood, who turns 25 this year, is well and truly in his prime. Last year he averaged 24 possessions a game, was on the right side of the kicks to handballs ratio and averaged 5.6 tackles. With Bartel set to spend more time up forward than in previous years, Selwood could have the ball on a string in 2013. Expect him to improve on his 2012 average of 103.05
Travis Varcoe (MID/FWD), $234,400
LOCK. Get in there and do it now. Just do it. Due to injury, Varcoe only managed half a game last year. As a result he appears to be hungry for the contest and this will please DT coaches. Known as being quick and crafty around goals, Varcoe is set to play a further up the ground, possibly spending most of his time running off half-back. Geelong's run and carry out of defence is one of the best parts of their game and Varcoe will be right in the thick of it. He has been an absolute standout in the NAB cup so far, getting plenty of the ball and contributing to the scoreboard as well. He is an absolute bargain at $234,400 and set for a massive year.
Steve Johnson (MID/FWD), $501,700
This is one player who causes the most indecision amongst DT Coaches. If you pick him, you better have the sick bag ready because you're jumping on what can be an incredibly frustrating rollercoaster ride. As a Geelong supporter I feel like he's suspended every other week; his lack of discipline can be an issue more often than not (remember, he's missing Round 1 this year after being suspended in the NAB Cup). Big red flag for DT coaches. He can also throw out some pretty ordinary sub-80 scores, and when you're paying $500,000+, it's not what you want to see. But wow… when he goes big, he goes BIG! Last year he reached the 130+ mark 5 times, including a huge 163 against Melbourne in round 6. He has one of the highest ceilings for a forward in the competition… but do the positives outweigh the negatives?
Jimmy Bartel (MID/FWD), $492,700
Bartel spent less time in the midfield last year than he has in previous years and this is set to continue in 2013. The good news for DT coaches is he is now a DPP with both midfield and forward eligibility. Typically, our high scoring forwards can be hot and cold at times but don't expect that from Bartel; rarely plays a bad game and always finds a lot of the ball. Ok so we might not see him average 100+ again, but it won't be any less than 90 with the potential for a few 110+ scores every now and then. If he was only able to be selected as a midfielder this year, I'd probably suggest there are better options, but being given fwd/mid status this year is a gift to DT coaches.
George Horlin-Smith (MID), $171,900
Boy am I excited about what Horlin-Smith has to offer. Debuting last year, Horlin-Smith played 3 games for Geelong, spending most of his year in the VFL going on to play in the premiership team  where he was awarded best on ground honours.  He's got off to a flying start in the NAB cup, really pushing his case for round 1 selection. Goes hard at the contest, so hopefully this means plenty of the +4 tackles we all love. Chris Scott has nothing but great things to say about him and has said he will be given every opportunity to play senior footy. He averaged a touch under 50 in his 3 games last year and I believe he has the potential to push for 70+. He is cheap enough for a second year player at $171,900 and could be a nice point of difference as your M7-8.
Others on the watchlist – Josh Caddy (MID, $328,600) has sparked a lot of interest since joining Geelong but I think this year you may be getting what you pay for as far as his average goes. Allen Christensen (FWD/MID, $381, 200) looked like he was set for a break-out season last year, but injury hit and he was in and out of the side. Could this be his year? Shane Kersten (FWD 108,500) looks set to be a handy addition to Geelong's forward line and has shown great things in the NAB cup but may be hard pressed to find a spot come season proper.  The same goes for Jackson Thurlow (DEF, $116,200). Averaged 24.6 disposals at under-18 level but may find it hard to get senior game time.
FOLLOW AMANDA ON TWITTER: @FlossyDT