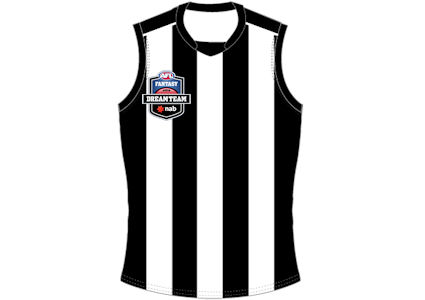 This series of 'club preview' posts are written by DT TALK regular contributors choosing their 5 players they have on their watchlist from the respective club. These aren't who we think will be the top 5 highest scoring players… and are not necessarily in order. They are just our opinions of the 5 players who we have on our watchlist heading into the 2013 season.
AKI'S FIVE FROM THE PIES
1. Dane Swan (MID), $99,999,999
Can Swanny be the highest point scorer per game again this year? For the past 4 seasons Dane Swan has finished the year with the highest average. Now to break it down, Gary Ablett, has never finished number 1 at seasons end based on average alone. Nick Maxwell has told us Swanny has had his best pre-season to date. You pick Dane Swan. Dane Swan doesn't call the wrong number, you just answer the wrong phone. Dane Swan doesn't wear a watch, he decides what time it is. Dane Swan sat in the corner of a round room. Dane Swan knows Victoria's secret… anyway… The only downside of this, is Swan costs you your entire salary cap. You are allowed to pick Swan, but the remaining players must be auto filled with rookies.
*Dane Swan will actually cost you $688,100.
2. Scott Pendlebury (MID), $568,700
My personal favourite, but I can't be too sentimental. I'll just stick with the facts. Pendles has averaged over 100 for the past 4 seasons, with his best year being in 2011 with an average of 116.  Last year he averaged a touch over 110, which was the 7th highest average AFL wide. He has played 18 or more games for the past 6 years, which isn't bad considering he fractured his lower leg last season (played 18 games). Pendles hates to miss games and hates to be rested. He is one of the most consistent DTers out there. With Collingwood's mid-field getting stronger and stronger, especially with the growth of Beams and Sidebottom, Pendles in my opinion will be the beneficiary to this. Also with Swanny's price to kick start this season, there are quite a few going just with Pendles early on. Tough call. For me, it's both, again.
3. Brent Macaffer (FWD), $132,600
After a year to forget in 2012, Macaffer is looking to use it as an extra motivator for this season. Was damn close to playing in last years Finals after a bad knee injury, they held him off and "Caff" has had a massive pre-season. At his price, and position, he is nearly a no brainer. His best season to date was when the Pies won the flag in 2010. He averaged a touch over 75 and played in 17 games that year. His price in that season went from $203,000 to $361,000. No reason it won't happen again and I feel that Macaffer this season if he continues to work hard could average 80-85 quite easily. Whether he holds his spot in your DT for the year is another question, but Caff will get you some decent returns. I personally wish him all the best! BM3.
4. Dayne Beams (MID), $599,400
The 2012 Copeland Trophy winner had well, obviously, his best season last year averaging a touch over 116 a game placing him 3rd behind Swan and Ablett for last seasons highest average. At 23, there is still plenty of improvement left in Beamer. He could really be anything this year. The toughest part is deciding/going with 2-3 Collingwood mid-fielders throughout 2013. Also being priced more so than Pendledury, that leaves even more of a decision. He was fantastic in the intra-club practice match and has had a more solid pre-season than the year previous. I think it will come down to personal preference and a bit of luck with the Collingwood Big 3 this season, you can't really go wrong with any of them.
5. Heath Shaw (DEF), $422,800
I was going to go with Cloke here, but after last year's bloody circus, it turned me off. Shaw has averaged over 80 for the past 7 years. That's a fair effort for a defender, considering how thin good solid DTers are down back. 2013 is set-up to be a big one for Shaw, with the addition of Jordan Russell, a primed Harry O'Brien and fit Reid and Maxwell, you might see Shaw play up off a wing more than normally this season. It's hard to put a cross through his name if you really think about it. I think he will finish up in the top 5 average this year down back. Maybe watch his form in first couple of rounds if you are unsure.
OTHERS ON THE WATCHLIST:
Sam Dywer (FWD/MID) – $89,300
I have been keeping close tabs on this bloke since he was picked up in the rookie draft. Is a 26 year old mature age recruit who won a Premiership with Port Melbourne last season and was named in the VFL team of the year. Loves to get in there and win his own ball and is handy up forward as well as he is a good finisher. Will be interesting to see if he breaks into the Magpies best 21, but he has been training with the midfield group and his price is as Bruce says, delicious.
Kyle Martin (MID) – $103,300
At 22, Kyle is another so they say, mature age recruit. Being more of an in and under player similar to Luke Ball, Kyle might find getting into the best 21 a bit tougher. But so far he has impressed everyone at the club and has had a solid hitout in the NAB thus far. Add to your watchlist as you just never know.
Andrew Krakouer (FWD) – $243,200
Another player returning from a serious knee injury. Krakouer even managed to fly with the team to Utah this pre-season, (something he has missed out on years prior) and is on track to be in Collingwood best 21 come Round 1. Watch his NAB form and game time to see what Krak can offer come Round 1. Could be a cheap pick-up if he comes out guns blazing.
Jarrod Witts (RUC) – $108,500
Witts has been showing some impressive skills for awhile now. With Dawes being traded, Wood and Ceglar being delisted, the Collingwood coaching staff are expecting big things from Witts and the guy next on my list. I believe once Witts gets up to speed with the quickness of the AFL game, he will be a beauty. Super athletic and great with his hands, I am keen to see if Collingwood give him a chance early on seeming the next bloke is battling injury.
Brodie Grundy (RUC) – $103,300
The 18th pick and Collingwood's 1st in the draft, I am unsure how he fell so low in the draft. Is AFL ready and has the talent to match. Currently nursing a back injury which is affecting his training atm, I doubt we will see Grundy early on, but when he is 100% ready to go, I have no doubt Collingwood will get games into him. Jolly will not play every game this year and Hudson has been recruited not only as a ruck coach, but as another veteran who can also give a chop out to Jolly when need be so the kids (Witts and Grundy) don't have to handle that burden. They won't let what happen last year with Dawes playing the 2nd ruck and Collingwood being out of options when Jolly can't put his mark on a game (Hello Q Stick!).
FOLLOW ON TWITTER: 

@

Aki_DT