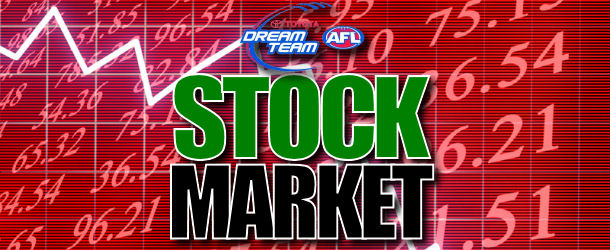 Each week I will put in a simple format, important players who are likely to drop or gain a significant amount in value.  I will inform you who and when certain players are likely to peak and who is going to be at a bargain basement price. For the newer players to the game of DT here is a simple guide to getting the most out of your money/team.
Hello to all of you fine coaches tuning in again to the money making machine that is me, Aki. I firstly must say, thanks again for all of the positive feedback. A lot of time goes into this article each week as well as a lot of research and a whole lot of coffee. Also a quick shout out to my wonderful Fiance, whom had to put up with me last night stressing to pump this article out after a long day at work. I'll be making up for that this weekend! :)
I will do my best to provide all lovers of DT, an easy to read and relevant weekly article that will hopefully help you make a decision as coach, of your respective teams. This week won't have as many players as Hawthorn, Geelong and Freo all have the bye followed by Collingwood and Carlton. By Round 9, things will be pumping.
Now remember, I am all about the money. The more money you have to work with, the more money you have in making your team a winner. Everyone started the year off with the same salary cap of $8,235,500 and by season's end, I want your salary cap to be so cooked, that they'll have no choice but to give the Storm back their hard earned premierships.
Some very important things to note:
Whilst your team's value should be starting to sky rocket, don't let it completely fool you.
1.) If you picked a player at the start of the year that you planned on building a house for, his price is totally irrelevant. Because you won't be shipping him out and won't be shipping him in.
2.) Rookies and Bargain players that are there just to make you money are the only values you should be considering in your team, because it's when you "cash them in" that matters most. Whatever you do, do not become attached to them, they are only making you money and then good riddance.
3.) Grabbing premiums at ridiculously low prices is the most fun and risky part of all things DT. (By the way, welcome to my team @JackRiewoldt08). You've got to know when and who to grab and who to trade them for.
4.) Plan ahead. Plot your journey. You're addicted to DT so you might as well go full throttle. Open a spreadsheet and plan your trades. Yes shit will happen (Krakouer) but that's why your planning!
If you have any questions you need to answer, information your wish to obtain, a request for next week or you just want to send something amusing. Your best bet is to jump on Twitter (sign up if you don't have it) and hit me up as it's the easiest way to get in touch quickly. Or alternatively flick me an email and I will endeavour to answer your questions, pronto! Or of course, be consumed in the comments section below where many other DTers are there to lend a hand.
Happy DTing!
Twitter: @Aki_DT
Email: aki@dreamteamtalk.com
Ready to buy?…
Jack Riewoldt – $264,900 ↑$1,000 ($82,600) The Assistant Coach does not predict Jack to score over 100 for the rest of the year, haha, nice one Assistant Coach, Jack already has 2 of them this year and his cousin Nick hasn't even reached 100 yet this year! He has a B/E of 46 this week vs Brisbane where he averages 62. Now is the time to get him in your team if you have the space.
Get on board tip:

NOW!

If you were wanting him, now's your chance.
Marc Murphy – $393,600 $11,500 ($20,700) If you're looking for someone a little different but not game enough to go the extreme, Marc could be your man. 3 x 120+ scores so far this year to go with 69 and 86, is a very solid outcome, even if it is inconsistent.  B/E of 94 vs Sydney where he averages 90. Carlton do have the bye in Round 8 but he could be a good cover over the next weeks.
Get on board tip: Obviously after Carlton's bye after Round 8. But sometimes it pays to be unique.
I'll try and post a few more up tonight but next week I will have a lot more players that are plummeting, this week isn't the best week to trade players in, just look to cash up for next week when Swanny has a bye.
Show me the money:
Jack Darling – $180,100 ( ↑$87,600) After having the bye last week the Darling of the West must be happy with his start to his AFL career. 3 scores in the 60's and a 100 before the bye is a fantastic return. Likely to increase $35,000 in value this week and is up against the Demons with a B/E of –29.
Current Form Value: Over $287,000 now.
Drew Petrie – $244,400 ↑$34,700 ( ↑$34,700) What a game Petrie had against the Tigers, a huge 143. I watched the whole game and the block was solid as a rock. Marked everything, executed everything perfectly and looked sensational. If you were one that backed him at the start, great call. Has a B/E this week of –13 vs Port where he averages over 90, boom. Another $34,000 to be added to his value this week.
Current Form Value: Over $340,000 but Petrie's ceiling could be anything.
Broc McCauley – $80,400 ($0) Brisbane rookie ruckmen who snuck nicely under the radar. Job security is always questionable but if he plays this week could see his first price rise in the vacintity of $40,000 with a B/E of –53. Has scored 30 & 86 in his two games and hopefully he can hold his spot.
Current Form Value: Over $223,000. But that's with 2 inconsistent games.
Jordan Gysberts – $203,500 ($0) What's he doing back in the cash cows? Well seeming he only managed 3 tempting games last year, he is still cheap and still a dollar to be made. 103 & 67 to start his 2011 off. Is going to be a career player at Melbourne and he has a fair chance of keeping a regular post down at the Demons. Has a B/E this week of -11 vs West Coast. Could go up another $30,000.
Current Form Value: Around $330,000. Keep an eye on next couple of rounds.
Nick Lower – $162,300 ↑$25,300 ( ↑$69,800) Kicked the game sealer last week and no doubt is in the coaches good books with a very impressive game. DT wise he scored 79, which is not quite near his Round 1 98. Will be taking a breather this week as Freo have the bye but he is looking the goods to be a solid money maker for many DT teams.
Current Form Value: Smidge under $270,000 but if he keeps it improving, expect more.
Dyson Heppell – $251,400 ↑$36,200 (↑$118,900) Runner-up for the ANZAC medal, very impressive for an 18 year old in his 5th game. Scored well too racking up 107 to go with his 90 the week prior. Heard whispers the kid might be rested soon, but it's only a rest, his spot is not up for grabs. If he does play this week he'll be up against the Gold Coast Suns with a B/E of -1 and set to gain a further $30,000 in value.
Current Form Value: Over $331,000 now and climbing.
Alastair Smith 97,600 ($0) I'll be the first to put my hand up and say I have no idea on Smith. Except he has scored 63 and a 49 in his two games thus far. If he plays this week he will more than likely increase $30,000 with a breakeven of -36. But, with the way things are at St Kilda, they need youth and he might become a regular!
Current Form Value: Over $216,000, pretty poor so far.

Sell Sell Sell:
Andrew Krakouer – $171,000 ↑$1,900 (↑$31,500) While jumping off rookies early is a hard call, sometimes it just has to be done. You want your rookies to have job security and gain in value as fast as possible. Well, Krak got dropped for the ANZAC clash. Has scores this year of 96, 48, 48 & 40 which is going to make his value gain very slowly with a B/E of 45. Don't get me wrong, Andrew could easily turn it around sooner than later, but the money train is leaving other ports and frankly, Andrew has missed the boat. But I still love him.
Current Form Value: Just over the $223,000 mark. Which is not crash hot.
Cameron Richardson – $136,700 ↑$7,200 (↑39,100) What on earth is going on here? Was my pick of the year (once Tendai went down) before the season started. Looked great in the NAB cup and with 4 games and scores of 61, 55, 53 & 14, has disappointed. Has a B/E of 40 and could gain a further $5,000-$10,000 this week, but that 14 in his rolling average is going to hinder his money making ability for a few weeks and let's be honest, he may get dropped this week.
Current Form Value: Around the $176,600 barrier. Which is shithouse.