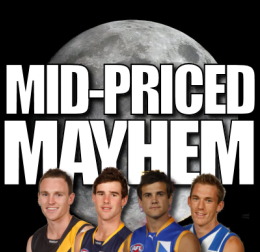 It's Round 3, which means in DT World, it's the first chance for your players to raise
or lower in price (with the exception of Gold Coast, Adelaide and North Melbourne of course). Do you hold onto Mr. Substitute Rhys Palmer? Can you bear watching Nathan Foley run around again? Or do you, Pull The Trigger…?
So lockouts ended and your dissecting your team to make the best move you can. "Right, if I traded Andres Everitt to Brodie Smith, I'd have x amount of dollars in the bank to possibly upgrade Rhys Palmer to such and such". You don't think those things? Well, your a liar. I'd also like to make this clear, sideways trades from my prospective, are a no go. If you picked a gun at the start of the year, BACK HIM IN! If he just lost a leg or his decided to take up lawn bowls, then consider it.
There will only be Round 3 once, (for 14 teams). Meaning prices will start to change, after this round is complete. This is your only chance to quickly pull the trigger on those misfiring blokes that call themselves footballers and possibly jump on someone who is about to sky rocket in the near future!
Also you will notice that obvious players such as Swan, Gibbs, Sandilands, Cox aren't on this list. You should have them anyways! My mate Chook takes care of the rookie side of things so players like Liberatore, Curnow, Tapscott etc are his domain and one's you should already be all over like a sweaty rash.
Red Bulls-Eye: (The one's you must consider humanely letting go of.)
Andrejs Everitt (Sydney) – Why on earth did I even contemplate picking a guy with a random j in his name. J – joke, ahh I get it.
Rhys Palmer (Fremantle) – At over 300k, its unacceptable, if he is being subbed back-to-back, something isn't right. Disappointing.
Michael Hurley (Essendon) – I really doubt he is going to be a strong dream teamer for a few years, let's swallow it and move on.
David Astbury (Richmond) – Gone, gone, gone, gone, gone, gone. Simply put: Trade.
The Grey Area: (There's potential there, just not meeting it)
Nathan Foley (Richmond) – At his price, he is still cheap and worth hanging on to. I reckon he will come good in a couple of weeks.
Jed Adcock (Brisbane) – You'd be a brave man letting him go after a 112, but a 53 at the Gabba vs Freo, come on Jed!!
Chris Yarran (Carlton) – Tits on a bull round 1, fly paper round 2. Is this what to expect all year? If so, could be dangerous.
Josh Kennedy (Sydney) – Not living up to his NAB cup form. At over 300k also, really had to dig deep.
Climb Aboard (The one's who look the goods.)
Chris Dawes (Collingwood) – Travis who? This guy is smashing the door down (had to be said) to get into your team, looks an integral part of the Pies this year!
Mitch Robinson (Carlton) – Not my cup of tea, but you cannot deny his ability to do his job. Always finds it and always has a crack.
Matt Thomas (Port Adelaide) – Is powering along nicely and has the ability to dominate. Might be a year he breaks out, get on quick.
Clinton Young (Hawthorn) – My personal pick of the Hawks bunch, we know his ability and this time he is fitter than ever, could be a unique keeper…
So discuss away on your smokie or your chokie. That's what we're here for!